Department of Theatre
The Other Shore, by Gao Xingjian, directed by Haoqi Xia Senior Thesis in Directing '20
Department of Theatre
Mission: To engage imaginatively with the inheritance of the past, the questions of the present, and the possibilities of the future through embodied and intellectual inquiry into theatre and performance. 
What do we value?
In the Department of Theatre, faculty, staff, and students understand drama, theatre, and performance as artistic and social practices, and as means and objects of study that model the investigation and production, the making, of a sustainable, equitable, livable future.  We pursue theatre and performance within the purpose of the university: to learn, explore, and fashion disciplines of inquiry, new ways of knowing and so new structures of knowledge. Theatre is a site of public encounter, and we undertake its many forms of collaboration in order to speak with the campus and the community, to perform an imaginative, ethical engagement of possibility: of critical dialogue among the arts, humanities, and sciences; of social and climate justice; of equity and inclusion; of the manifold joys of creative work across the regenerative interdisciplines of theatre and performance.   



What do we do?


In the Department of Theatre, faculty, staff, and students
practice: inquiry across a range of platforms of scholarly and artistic production that define and enlarge one another, participating in learning modes of embodiment, of spatial array, of visual and sonic design, of written expression, and of cultural interpretation across a range of forms 
create: make art and make scholarship, in the understanding that theatre provides a process and a means for making oneself, and making a livable world
learn: the historical, cultural, social, political, and aesthetic contexts of drama, theatre and performance, and the contemporary practices of performance as means of seeing theatre today as an instrument of critical invention and ethical performative intervention
collaborate: with others with different skills effectively, productively, creatively, ethically, and equitably
reflect: on the process and the product of making, on the political and ideological work of aesthetics, on the interplay between creative work and equity, justice, and citizenship
Who are we?
The Department of Theatre are 
faculty and staff specialized in a wide range of disciplines, professional artists and scholars who engage in critical creation across a range of platforms
students majoring in Theatre, or taking courses as nonmajors, pursuing a variety of paths toward their future. Among other avenues, our students have gone on to pursue further study in MFA and PhD programs in various fields, leading to professional careers in theatre, as well as to academic careers in the humanities, theatre, and performance studies. Many find the writing, performance, and collaborative skills developed in the study and practice of theatre essential in their future work in a variety of professional settings.



Where are we?


The Department of Theatre

 
is in and of New York, the nation's theatrical capital, sustained by an unrivalled range of performance from Broadway to off-Broadway to off-off Broadway, and extending across the city's five boroughs
is part of the vibrant, diverse civic community of Morningside Heights and Harlem
is part of an energetic and distinguished academic community, making theatre, learning theatre, understanding the theoretical, social, cultural, ideological the work of theatre in conversation with the interrogative work of research across an academic campus
is engaged with the city, with a wide range of artists and scholars, and with our sustaining communities.
acknowledges its location in Lenapehoking, the territory of the Lenape people, as a step towards recognizing the traditional and enduring stewards of this land and disrupting the invisibility and ongoing erasure of Indigenous Peoples
The Curriculum
All courses, including stage productions, offered by the Barnard College Department of Theatre are open to all Barnard and Columbia undergraduate students. The Department also provides the undergraduate major for all undergraduate Barnard College, Columbia College, and General Studies students (the Columbia major is designated "Drama and Theatre Arts"). While Barnard and Columbia students fulfill the overall graduation requirements of their respective institutions (the Core at Columbia, Foundations at Barnard), major requirements are the same for all students, who take foundational coursework in the literary, cultural, and embodied traditions of global performance as well as in the practices of acting, directing, design, dramaturgy, and playwriting. All majors then specialize in a specific area and undertake advanced thesis work, leading either to a formal essay of original research, or to an artistic project (in acting, design, directing, dramaturgy, playwriting, or solo performance) accompanied by written documentation. Barnard and Columbia students receive their degrees from their respective colleges of Columbia University.
The Department mounts a full season of productions in the Minor Latham Playhouse and the Glicker-Milstein Theatre, a crucible of investigation sustained by the collaboration between undergraduate students and professional theatre artists. Department of Theatre productions are both a learning process and a scene of encounter, where perceptions are shaped for the attention and creative reflection of a larger public.
Department of Theatre, Barnard College
Statement of Anti-Racism
As artists and scholars, working professionals teaching, researching, writing about, and making theatre, we are daily aware of both the deep history and contemporary inflections of racism defining the landscape of the arts in the U.S., and strive with our students to imagine and to bring about the kind of change that must permeate all our institutions: the police and the courts, the institutions of health care that have proven so inadequate to Black, Brown, and Indigenous communities in the current pandemic, the practices of education, and the work of the arts as well. In the Department, we are committed to expanding our critical and performative engagement with racism—in the curriculum, through invited artists and scholars, onstage—and indeed with historical and contemporary forms of political, colonial, class, and sexual injustice encoded in cultural systems.
While the work of anti-racism and its counterpart, world-building towards liberation for all, is ongoing, we are awake to spikes in injustice and racial violence in the U.S. that continue to occur. We are enraged by the persistent racist state violence of the police, and grieve the lives that have been lost to it. We support and engage alongside friends and colleagues, activists, artists, and students in the essential struggle against white supremacy in its manifold forms. 
We have found these writings by theatre scholars and practitioners useful:
Indigenous Theater and Performance of North America Resource Guide
Embodied Avatars: Genealogies of Black Feminist Art and Performance by Uri McMillan
The Hypersexuality of Race: Performing Asian/American Women on Screen and Scene by Celine Parreñas Shimizu
We See You, White American Theater
Black Theatres Across the U.S.
Race, Sex, and Death from Miss Saigon to Atlanta by Yutian Wong
Theatre Department 2021 Prize Recipients
Barnard  College Department of Theatre Kenneth Janes Award:  Brianna Johnson  BC '21
Columbia College Austin E. Quigley Award: Joel Meyers CC '21
Joseph Milton Fee, Jr. Award in Playwriting: Phanesia Pharel BC '21
Dasha Amsterdam Epstein Awards in Honor of Patricia Denison 
Acting:  Eliza Ducnuigeen  BC '21
Design and Production: Anna Pettit CC '21
Directing: Perry Parsons BC '21
Dramaturgy: Jaclyn Stroud BC '21
Playwriting: Adam Glusker CC '21, Kay Kemp CC '22
Theory, Criticism, and Research: Kathy Fang CC '24
Pandemic Panels: Theatre Activists Respond to COVID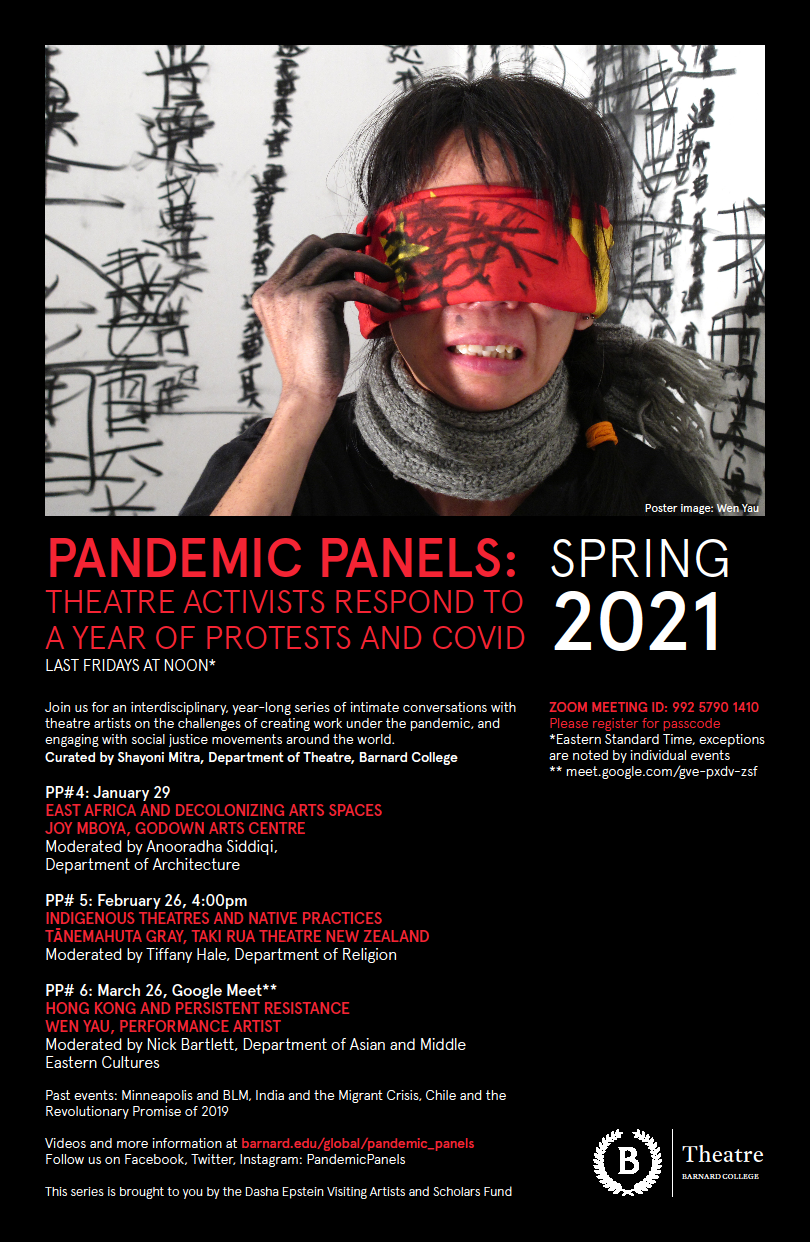 Last Fridays at Noon* Zoom.us meeting id: 992 5790 1410.
We are living through unprecedented times in the midst of a global pandemic. Even as public health restrictions around the world have sought to isolate and physically distance us, we are finding new ways of reshaping collectivity and sharing presence. The pandemic has further laid bare the inequities of our social systems. In many parts of the world this has also been a time for reimagining equality.  There have been mass protests in various countries in the last twelve months, concerning the fate of democracy and justice for all people.
In a year-long series of intimate, online conversation, we explore how arts communities are using a series of strategies to address the idea of collectivity in the present moment. From Minneapolis, New Delhi, Santiago, Nairobi, Wellington and Hong Kong, theatre activists share how their ongoing work has been transformed under the current moment. Together we think through how the arts can reshape our future world.
Pandemic Panels, curated by Prof. Shayoni Mitra, brings together faculty from the departments of Theatre, Architecture, Religion, and Asian and Middle Eastern Cultures across Barnard College to join in these conversations as part of our ongoing exploration of how to be a more engaged, empathetic and informed citizen of the world.
* Eastern Standard Time, exceptions are noted by individual events, please register for zoom access.
We will be archiving the event here.
2020-2021 Pandemic Panels Schedule

                                  2020
                                  2021
PP#1: September 25
Minneapolis and BLM
Moderated by Paige Johnson, Department
of Theatre
Faye Price, Pillsbury House Theatre
PP#4: January 29
East Africa and Decolonizing Arts Spaces
Moderated by Anooradha Siddiqi,
Department of Architecture
Joy Mboya, GoDown Arts Centre
PP# 2: October 30
India and the Migrant Crisis
Moderated by Shayoni Mitra, Department
of Theatre
Anurupa Roy, Katkatha Theatre
Choiti Ghosh of TRAM Theatre Trust
PP# 5: April 19, 4:00pm
Indigenous Theatres and Native
Practices
Moderated by Tiffany Hale, Department of
Religion
Tānemahuta Gray, Taki Rua, New Zealand
PP# 3: November 20
Chile and the Revolutionary Promise of 2019
Moderated by Eduardo Pavez, Department
of English, CU
Guillermo Calderon, playwright
Hector Morales, director Teatro Chileno
PP# 6: March 26
Hong Kong and the Persistent Resisance**
Moderated by Nick Bartlett, Department of
Asian and Middle Eastern Cultures
Wen Yau, performance artist
Zoom.us meeting id: 992 5790 1410. Attendees will be prompted to register to get passcode
*Eastern Standard Time, exceptions are noted by individual events, please register for zoom access
** will be hosted on a different platform.