Department of Theatre
The Other Shore, by Gao Xingjian, directed by Haoqi Xia Senior Thesis in Directing '20
The Barnard College major in Theatre
The Columbia College major in Drama and Theatre Arts
The purpose of the university is inquiry: situated at the intersection of the arts and humanities, in a world theatrical capital, the Barnard and Columbia undergraduate theatre program engages the disciplines of drama, theatre, and performance studies as a distinctive mode of intellectual and artistic inquiry. Majors take foundational coursework in the literary, cultural, and embodied traditions of western and nonwestern performance as well as in the practices of acting, directing, design, and playwriting. All majors then specialize in a specific area and undertake advanced thesis work, leading either to a formal essay of original research, or to an artistic project (in acting, design, directing, dramaturgy, playwriting, or solo performance) that combines the practices of research and artistic creation. While Barnard and Columbia students fulfill the overall graduation requirements of their respective institutions, major requirements for the Barnard Major in Theatre/Columbia Major in Drama and Theatre Arts are identical, and the majority of required coursework is offered through the Barnard College Department of Theatre. Barnard and Columbia students receive their degrees from their respective colleges of Columbia University. 
The Department's season of productions in the Minor Latham Playhouse and the Glicker-Milstein Black Box Theatre is a crucible of investigation: the place where professional directors and designers collaborate with undergraduates, using a wide range of classic and contemporary plays and performance practices to shape insights unique to theatrical inquiry today. Whether it's Shakespeare or Soyinka or Caryl Churchill, or the directing, solo performance, and playwriting theses in the Senior Thesis Festival, Department of Theatre productions are both a learning process and a scene of encounter, where perceptions are shaped for the attention and creative response of a larger public.
Making, thinking about, and writing about performance are an essential part of undergraduate education. For this reason, courses offered in the Barnard Department of Theatre and casting for its stage productions are open to all Barnard and Columbia undergraduate students, and Theatre courses engage productively with Barnard's "Foundations" and with Columbia's Core Curriculum. In recent years, graduates have written plays for Broadway and beyond; have begun careers as actors, directors, dramaturges, designers; and have gained admission to the most competitive MFA programs in the arts. They have also been successful in pursuing non-artistic careers, including admission to demanding Ph.D. programs in literature, theatre, and performance studies.

The Barnard College Theatre department collaborates closely with two graduate programs housed at Columbia University; if you are interested in MFA or Ph.D. studies in drama, theatre, and performance studies at Columbia, please see The Columbia University Doctoral Program Subcommittee on Theatre and the Theatre Division of the Columbia University School of the Arts.
Department of Theatre, Barnard College
Statement
The faculty and staff of the Barnard College Department of Theatre stand in close solidarity with the powerful actions protesting for justice for George Floyd, Breonna Taylor, Ahmaud Arbery, Tony McDade, and others, only the most recent victims of racist state violence in the United States. As artists and scholars, working professionals teaching, researching, writing about, and making theatre, we are daily aware of both the deep history and contemporary inflections of racism defining the landscape of the arts in the U.S., and strive with our students to imagine and to bring about the kind of change that must permeate all our institutions: the police and the courts, the institutions of health care that have proven so inadequate to Black, Brown, and Indigenous communities in the current pandemic, the practices of education, and the work of the arts as well. In the Department, we are committed to expanding our critical and performative engagement with racism—in the curriculum, through invited artists and scholars, onstage—and indeed with historical and contemporary forms of political, colonial, class, and sexual injustice encoded in cultural systems; we will be announcing the actions consequent on those commitments in the coming academic year.  But this week, as we are enraged by the actions of the police, and grieve the lives that have been lost to them, we support friends and colleagues, activists, artists, and students in the essential struggle to make Black Lives Matter here and now, today. 
We are also concerned about our students, knowing that they, and many others involved with that most political of artforms, theatre, will want to engage creatively with this struggle; we have found these writings by other theatre practitioners useful:
American Theatre "Tired but Not Daunted in the Twin Cities"
American Theatre "Black Lives Matter: U.S. Theatres Stand With the Movement for Racial Justice"
The Howlround Theatre Commons offers many excellent essays and resources written by Black theatre makers: Link here.
And for those seeking a starting point for resources concerning the wider community of BIPOC ( Black, Indigenous and People of Color) in theatre: Indigenous Theater and Performance of North America Resource Guide
Finally, The Movement for Black Lives has called for a week of action in defense of Black lives: Link here. 
Pandemic Panels: Theatre Activists Respond to COVID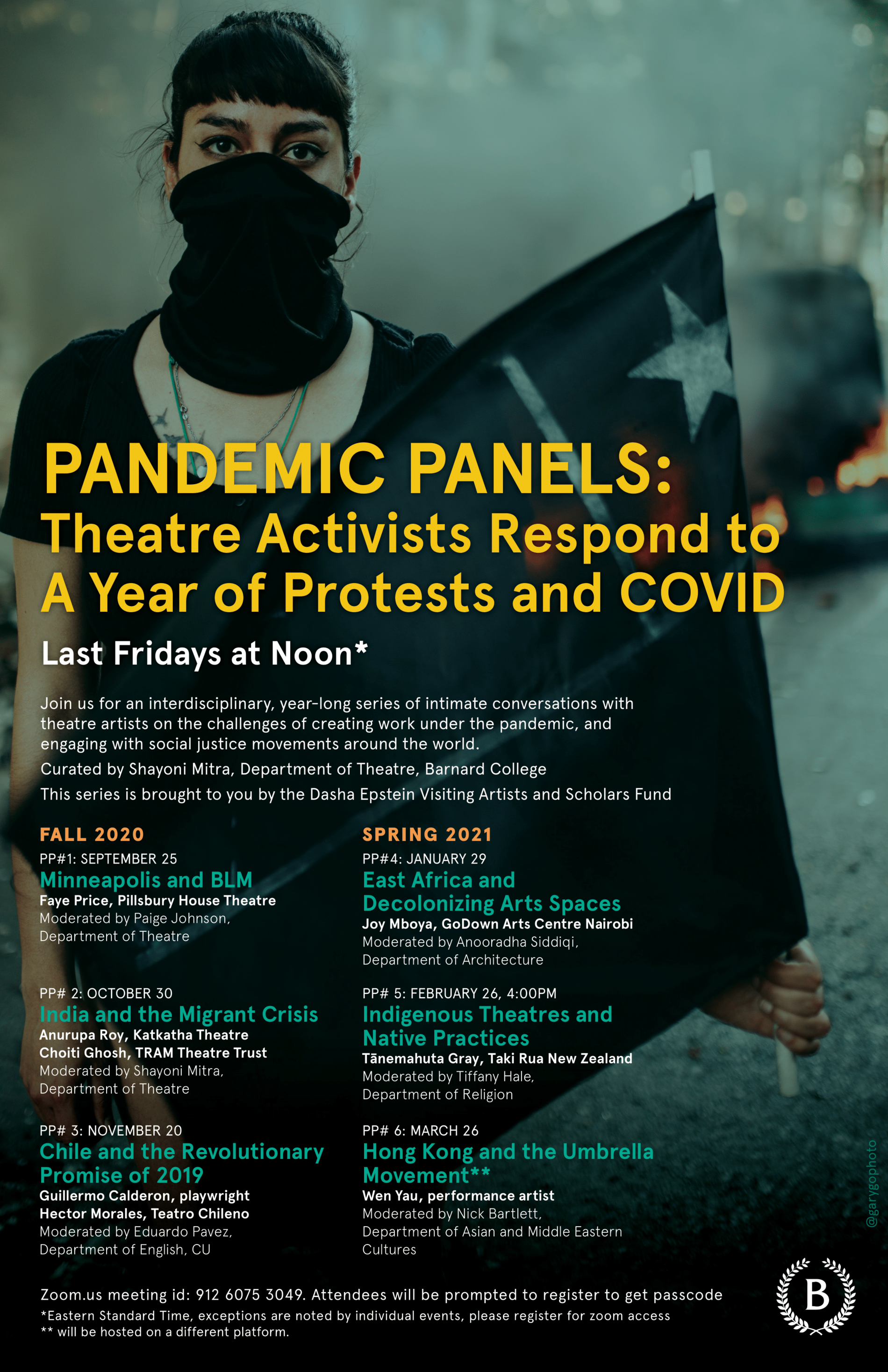 Last Fridays at Noon* Zoom.us meeting id: 912 6075 3049.
We are living through unprecedented times in the midst of a global pandemic. Even as public health restrictions around the world have sought to isolate and physically distance us, we are finding new ways of reshaping collectivity and sharing presence. The pandemic has further laid bare the inequities of our social systems. In many parts of the world this has also been a time for reimagining equality.  There have been mass protests in various countries in the last twelve months, concerning the fate of democracy and justice for all people.
In a year-long series of intimate, online conversation, we explore how arts communities are using a series of strategies to address the idea of collectivity in the present moment. From Minneapolis, New Delhi, Santiago, Nairobi, Wellington and Hong Kong, theatre activists share how their ongoing work has been transformed under the current moment. Together we think through how the arts can reshape our future world.
Pandemic Panels, curated by Prof. Shayoni Mitra, brings together faculty from the departments of Theatre, Architecture, Religion, and Asian and Middle Eastern Cultures across Barnard College to join in these conversations as part of our ongoing exploration of how to be a more engaged, empathetic and informed citizen of the world.
* Eastern Standard Time, exceptions are noted by individual events, please register for zoom access.
We will be archiving the event here.
2020-2021 Pandemic Panels Schedule

                                  2020
                                  2021
PP#1: September 25
Minneapolis and BLM
Moderated by Paige Johnson, Department
of Theatre
Faye Price, Pillsbury House Theatre
PP#4: January 29
East Africa and Decolonizing Arts Spaces
Moderated by Anooradha Siddiqi,
Department of Architecture
Joy Mboya, GoDown Arts Centre
PP# 2: October 30
India and the Migrant Crisis
Moderated by Shayoni Mitra, Department
of Theatre
Anurupa Roy, Katkatha Theatre
Choiti Ghosh of TRAM Theatre Trust
PP# 5: February 26, 4:00pm
Indigenous Theatres and Native
Practices
Moderated by Tiffany Hale, Department of
Religion
Tānemahuta Gray, Taki Rua, New Zealand
PP# 3: November 20
Chile and the Revolutionary Promise of 2019
Moderated by Eduardo Pavez, Department
of English, CU
Guillermo Calderon, playwright
Hector Morales, director Teatro Chileno
PP# 6: March 26
Hong Kong and the Persistent Resisance**
Moderated by Nick Bartlett, Department of
Asian and Middle Eastern Cultures
Wen Yau, performance artist
Zoom.us meeting id: 912 6075 3049. Attendees will be prompted to register to get passcode
*Eastern Standard Time, exceptions are noted by individual events, please register for zoom access
** will be hosted on a different platform.