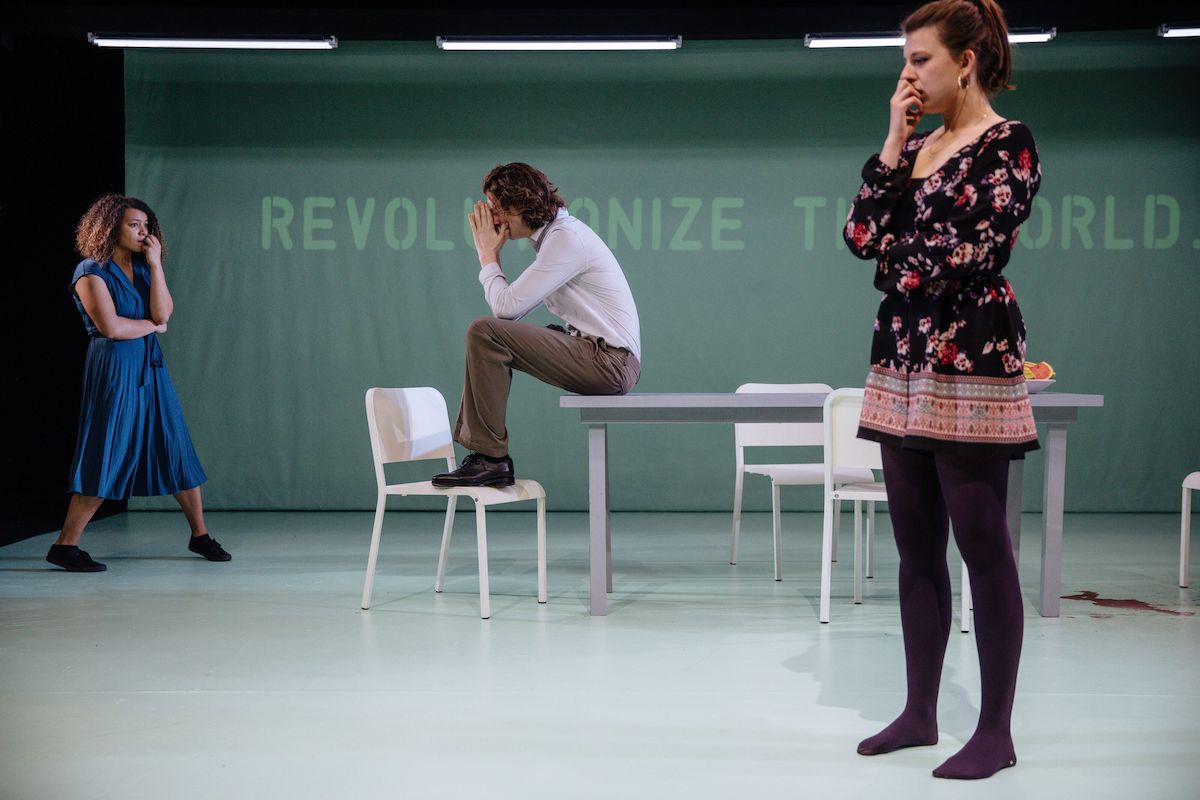 Production Crew
See here for information about Production Crew opportunities and to sign up. 
Productions
In a typical season, the Barnard Theatre Department produces two mainstage productions in the Fall semester (October and December), and one mainstage production in the Spring semester (March). The Spring mainstage production is usually accompanied by a two-weekend Senior Thesis Festival showcasing the work of thesis students in directing, dramaturgy, playwriting, research, and solo performance (April). 
Students interested in theatre are encouraged to attend all departmental productions.  Academic credit is given for work in departmental productions through the Practicum Performance Course (THTR UN 2022-26), and all students involved in a departmental production—cast, crew members, stage managers and/or designers—are required to be registered for the appropriate section of Rehearsal and Performance. The credit is variable, from 1-3 units; please consult Rehearsal and Performance faculty to confirm appropriate credit for your work. Registration for this course should be done at the beginning of the term, as soon as cast lists are posted or crew assignments confirmed. The Barnard Registrar's office discourages late petitions for these credits and may not waive the $150 late fee if you wait to add the course later in the term. Columbia students must petition if they enter the class after registration closes; to do so, please contact department chair W.B. Worthen. Students who would like to attend productions free of charge can work as ushers. Please contact Mike Banta at mbanta@barnard.edu for information about ushering.
Space
Rehearsal and performance space is at a premium. Students in acting classes are expected to rehearse in common rooms or public spaces. Time in 229 Milbank can be reserved via a Google Calendar that will be made available to you if you are in a class eligible to make reservations in that space; please observe the procedures posted next to the door. Faculty members and Senior Thesis students should schedule space directly with Director of Production Mike Banta. Students needing to use the shop should make arrangements with Technical Director Greg Winkler.  We do not, unfortunately, have space available for projects that are not part of Theatre Department course work. Extra-curricular space is handled by the Office of Student Life. Theatre students may also schedule space through that office.
Design opportunities
Students at Barnard have the opportunity to work closely with faculty and guest artist designers, as well as see their own designs realized in full productions. These design opportunities provide the chance to put coursework training into practice, and to work collaboratively at an advanced level with both peers and theatre professionals.
Costumes & Props
Costumes and props are available for use in class scenework and Theatre Department-produced student productions (such as Senior Thesis or Advanced Directing shows). Students wishing to sign out costumes or props should set up an appointment at least 24 hours in advance by emailing either the Costume Shop Manager Kara Feely or the Technical Director Greg Winkler. Appointments are generally available Monday through Friday between 10am and 5pm.
Work-Study
There are a limited number of work-study positions for students on financial aid (Federal Workstudy or Barnard/Columbia College Jobs). Students interested in a Work Study position in the Theatre Department should email the Theatre Department early in the fall semester. It is essential that we know your schedule before you are hired. We are particularly interested in students with the following skills: carpentry, sewing, lighting, painting, handling audio-visual equipment, computer graphics, web skills, typing, office work, publicity, box office, house and stage management. We have positions for both Barnard and Columbia students. Hours range from 4-8 a week. Please do not consider applying for a position unless you are willing to make a serious commitment to regular hours throughout the semester. For more information about student employment, see here.