Sustainable Design Practices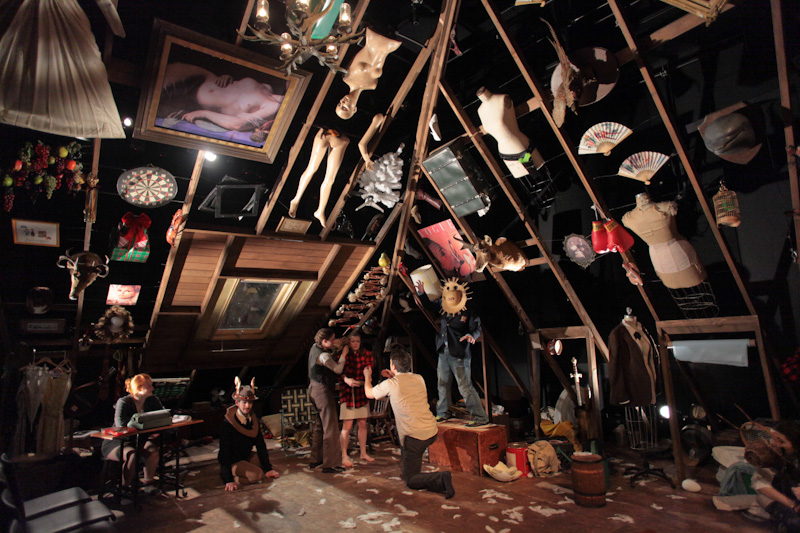 Since 2012, Barnard College Department of Theatre students, faculty, and staff have been developing practices to foster more sustainable design and production methods in theatre. Our work has crossed from the classroom to our season to professional work done off campus by our faculty. We are focusing on sets, costumes, and props, with an emphasis on emissions reduction through circular design and production methods.
Our goal is to connect the dots all the way from the first design meetings all the way through strike, and to create a systemic, trackable, institutional approach so that "green" becomes the way we do business. Charles Eames said that "design depends largely on constraints," and that the many constraints we are all accustomed to facing – time, money, architectural realities – can actually fuel the artistic process and help shape the work we produce. Social environmental impact can be considered one of the "necessary constraints" of the artistic process, and can make our work stronger, more impactful, and more responsive to the world we live in. 
Our aim is to create both a logic of why to change material and production choices and a simple set of tools that explain how to do so. We have shared our practices with colleagues at USITT, USA 829, Broadway Green Alliance, International Council of Fine Arts Deans, and many publications, including:
By the numbers:
Between 2016-2019, the Barnard Theatre Department: 
Increased percentage of stock/reclaimed/used materials on any given production from 50% to 60%
Reduced average yearly dumpster rentals from 3-4 to zero
Increased design fees by 58%
Increased prop artisan compensation by 70%

A reallocation of the materials budget constituted 60% of these increases in compensation