Current Season (2023-2024)
Fall 2023
Image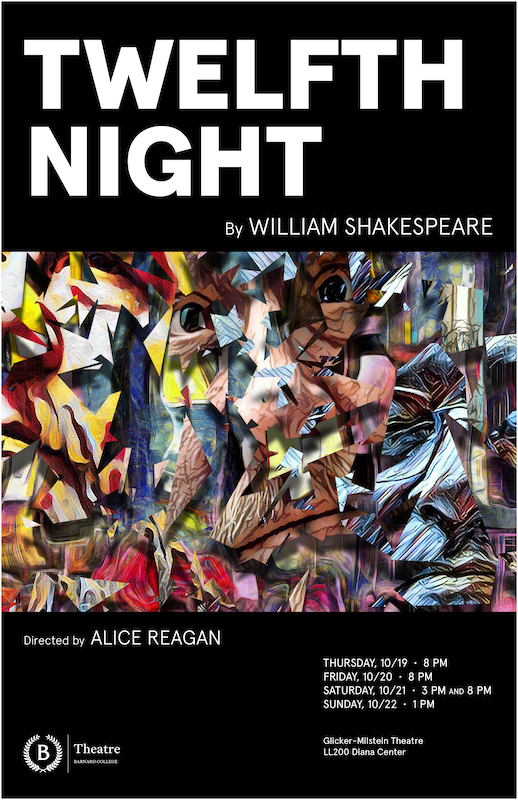 Twelfth Night
by William Shakespeare
Directed by Alice Reagan
October 19-22
Director's Statement
I believe it's important for us, as a Theatre department at a liberal arts institution, to engage periodically with the work of Shakespeare.  He is an influential, provocative, beautiful writer in the landscape of dramatic writing.  There's always more to learn from this artist.  I'm obsessed and troubled by Twelfth Night, and think it's the right play for Barnard and Columbia, now.  We need its healing power, and also its spikiness, for courage.  We are still very much in recovery from the pandemic, and far from recovery in terms of political/social battles around abortion, trans rights, a contested election.  When it comes to weather and climate catastrophes, the rain it raineth every day.
The ensemble of Twelfth Night is a ship of fools.  It's a play in which everyone behaves badly and is a little bit mad.  The play begins in grief, loss, and confusion and moves towards reunion and  wholeness.  However, for Shakespeare and for us, wholeness might not mean perfection or being perfectly happy in love.  I believe grief and loss are not experiences to run away from, but are feelings we would do well to weave into our daily lives—they are always present, in some way.  We are constantly changing, learning, growing, and leaving behind, even as we cling to the familiar.  Shakespeare wants to shake us loose, turn us upside down, have us live in reality, not fantasy.  Twelfth Night is a moment of topsy-turvy revelry but Shakespeare has his eye on the clear light of tomorrow morning, when we may not be at our best, but we'll be ourselves.
Tickets
Image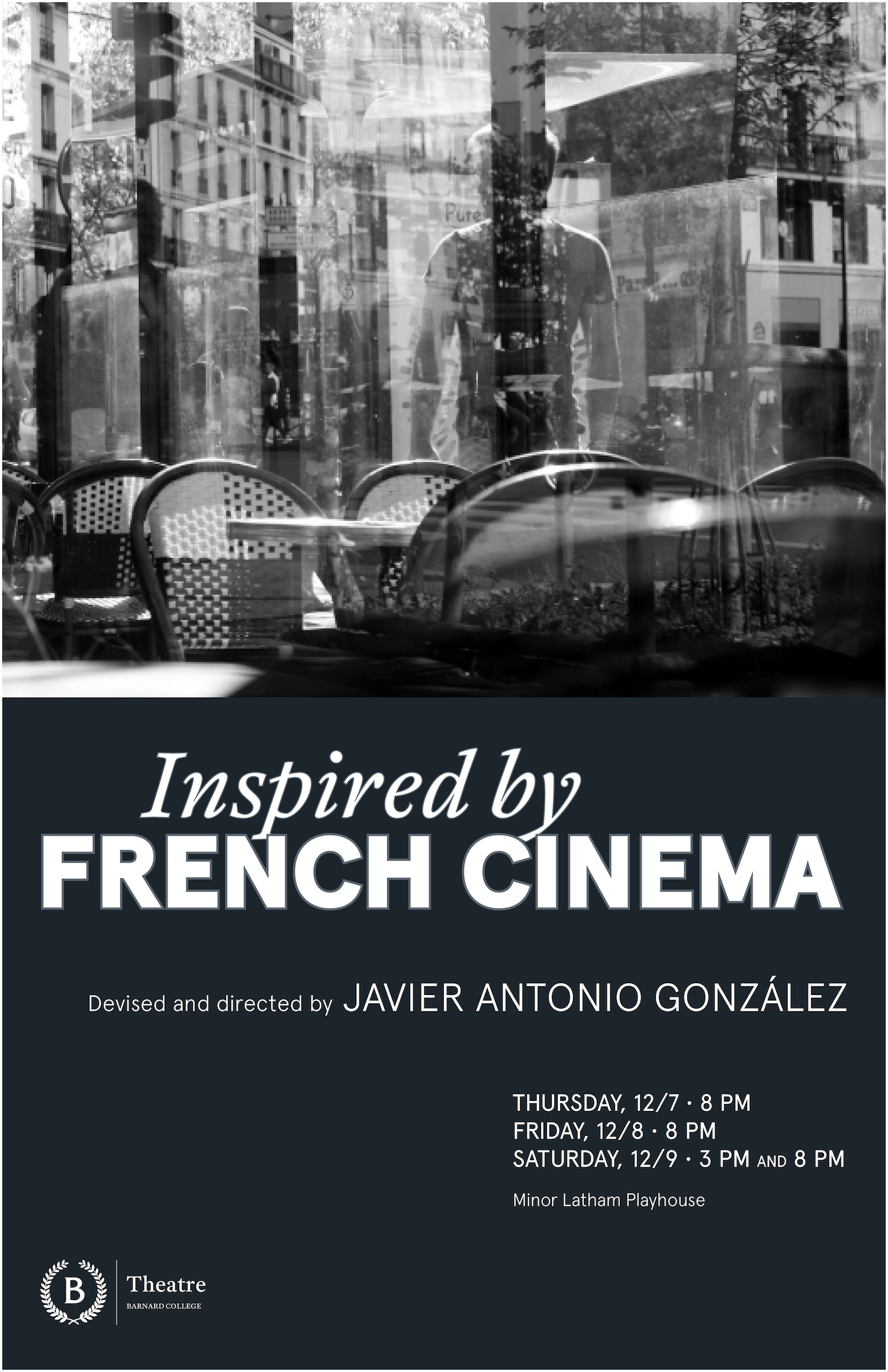 Inspired by French Cinema
Devised and directed by Javier Antonio González
December 7-9
Director's Statement
Inspired by French Cinema follows a tradition of voyeurism, self-reference, collage and fragmentary storytelling that can be found in several nouvelle vague films as well as in Roberto Bolaño's writing, especially The Savage Detectives. As a point of departure, Jules and Jim, Last Year at Marienbad and Hiroshima, mon amour influenced us the most. Having arrived with several scenes introducing the characters and the plot, students were tasked with completing the story, creating and in some cases finishing the character arcs. The story revolves around a group of students who go to graduate school in NYC during the Iraq War, and how their ideals—their intensity and their manifestation—interfere with the rest of their lives. Pulling from imagery easily associated with Parisian love and coffee shops, as well as a set inspired by movie theater lobbies, the staging is an ensemble visit to early 2000's New York.
Tickets
Thursday, December 7, 8 PM 
Friday, December 8, 8 PM
Saturday, December 9, 3 PM 
Saturday, December 9, 8 PM 
Spring 2024
Dance Nation
by Claire Barron
Directed by Tea Alagic
February 29-March 2
Senior Thesis Festival
April 18-20, 2024
Love & So
by Meng Jinghui / Liao Yimei
Translated by Claire Conceison
Directed and adapted by Kathy Fang
The Same
by Enda Walsh
Directed by Amina Khaitova