FALL 2009
Tartuffe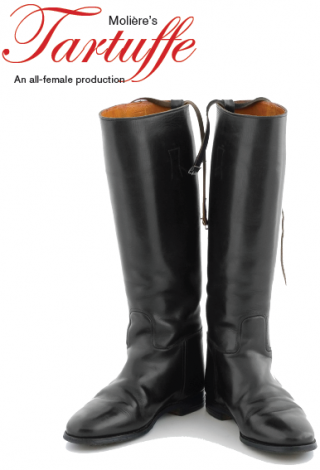 By Molière
Molière was a great favorite of King Louis XIV, and although Tartuffe was first performed at Versailles in 1664, the next version of the play was banned because of strenuous objection by the church, which took umbrage with Molière's virulent attack on religious hypocrisy. Molière embarked on a years-long,early modern French version of a public relations campaign to  rehabilitate the reputation of his play. He eventually succeeded in winning over the Sun King, which may have had something to do with the playwright's shrewd introduction of a certain royal who appears to restore order and harmony at the play's conclusion. The Theatre Department welcomes Columbia School of the Arts directing alumnus Will MacAdams, who will direct an all-women ensemble of Molière's brilliant and timely comedy.
THURSDAY, October 15
FRIDAY, October 16
SATURDAY, October 17
Minor Latham Playhouse, 118 Milbank Hall
 
Dissident Acts: 3 Plays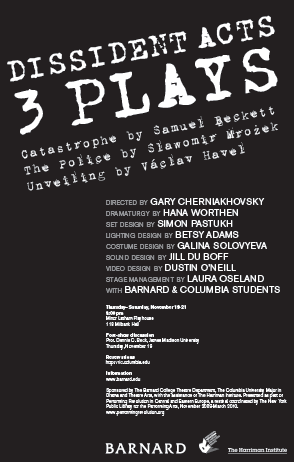 Catastrophe by Samuel Beckett
The Police by Slawomir Mrozek
The Unveiling by Václav Havel
Dissident Acts: 3 Plays presents works by Samuel Beckett, a member of the WWII resistance, as well as by his political counterparts and dramatic inheritors, the Polish and Czech playwrights Slawomir Mrozek and Václav Havel.
Beckett's miniature 1982 Catastrophe interrogates the public role of art in a taut homage to Havel, at the time imprisoned for subversion of the state. Mrozek's 1958 The Police, unveils the deep absurdity of totalitarianism, and Havel's 1975 Unveiling, transforms this absurdity into the hypocrisy of its elite.
Taken together, these plays, performed by Barnard and Columbia students, refuse to be museified as documents of the (in)human past; they extend the dissident inquiry of the liberal arts, animating an ongoing interrogation of the politics of our present.
THURSDAY, November 19
FRIDAY, November 20
SATURDAY, November 21
Post-show discussion
Prof. Dennis C. Beck, James Madison University
Thursday, November 19
Sponsored by The Barnard College Theatre Department, The Columbia University Major in Drama and Theatre Arts, with the assistance of The Harriman Institute. Presented as part of Performing Revolution in Central and Eastern Europe, a festival coordinated by The New York Public Library for the Performing Arts, November 2009-March 2010.
Minor Latham Playhouse, 118 Milbank Hall
SPRING 2010
Saint Joan of the Stockyards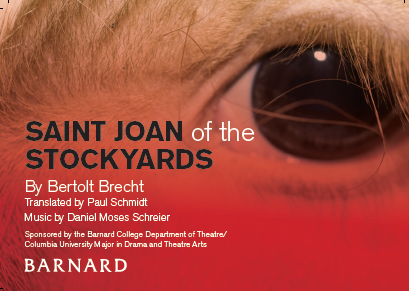 By Bertolt Brecht
Translated by Paul Schimdt
Twenty-five years after Upton Sinclair published The Jungle, Bertolt Brecht's St. Joan of the Stockyards draws on history, on the mythology of Brecht's Chicago, and on the example of Bernard Shaw to stage a searching parable of moral and economic responsibility, set in the boom-and-bust of the Depression meatpacking industry. Directed by Sharon Fogarty, a member of the Theatre faculty and co-Artistic Director of the legendary New York experimental theatre company Mabou Mines.
THURSDAY, April 22 8 PM
FRIDAY, April 23 8 PM
SATURDAY, April 24 8 PM
Minor Latham Playhouse, 118 Milbank Hall