Fall 2018
A Conversation with the Wax Factory
Founder and director:  Ivan Talijancic
Founder and performer: Erika Latta
September 12 
Image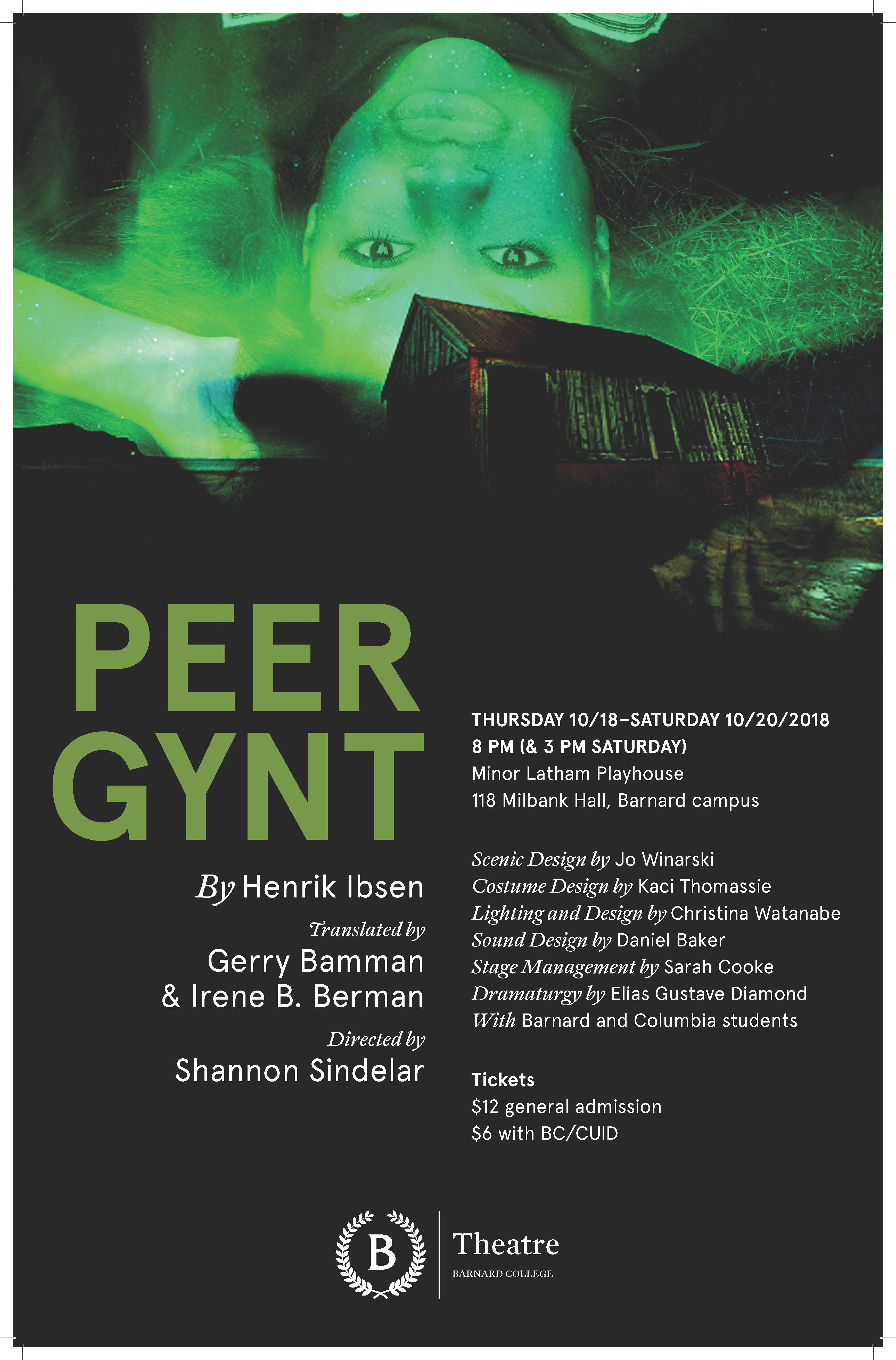 Peer Gynt
by Henrik Ibsen
Directed by Shannon Sindelar
October 18th, 19th and 20th
Image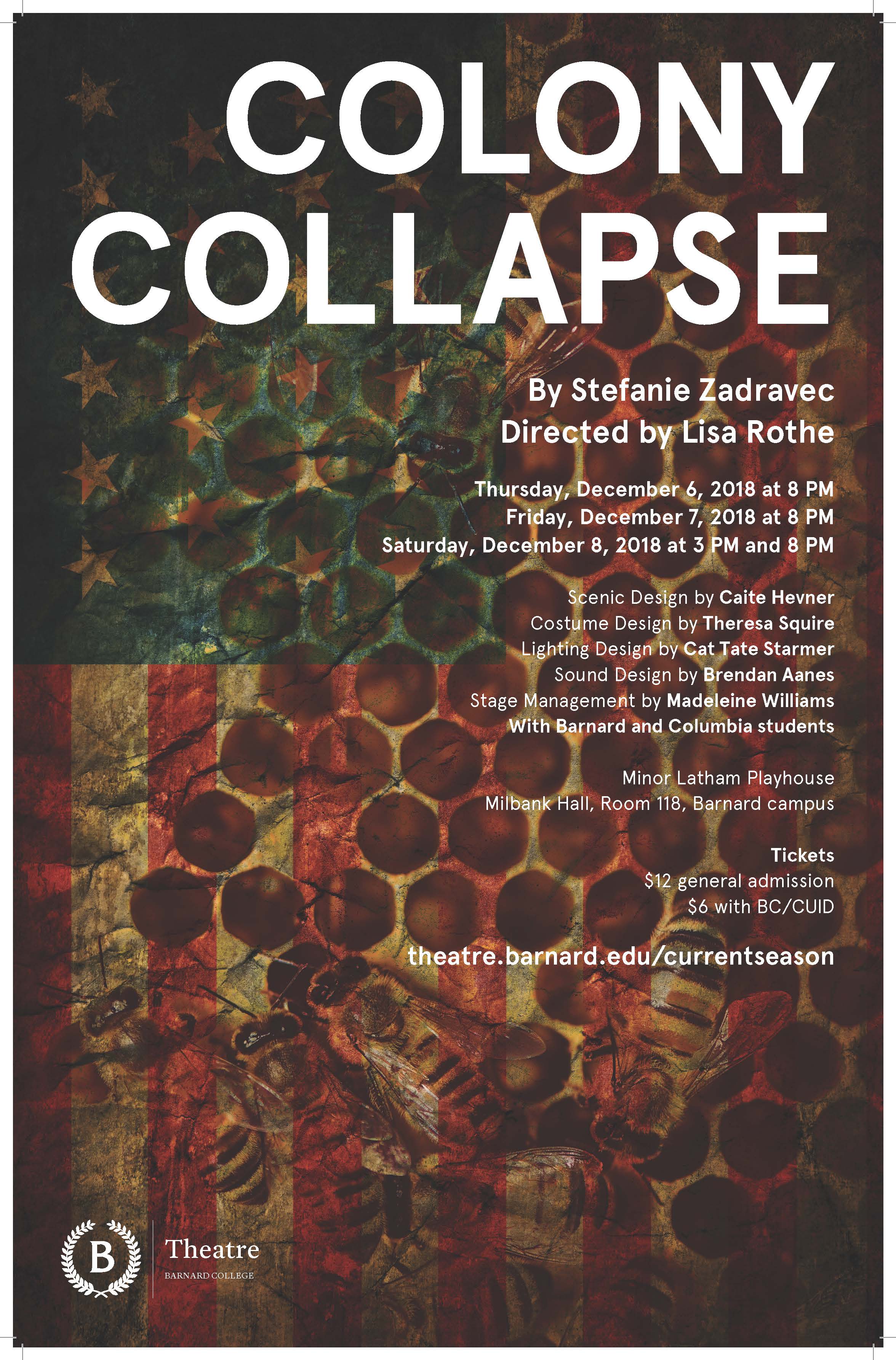 Colony Collapse
by Stefanie Zadravec
Directed by Lisa Rothe
December 6th, 7th and 8th
Spring 2019
Image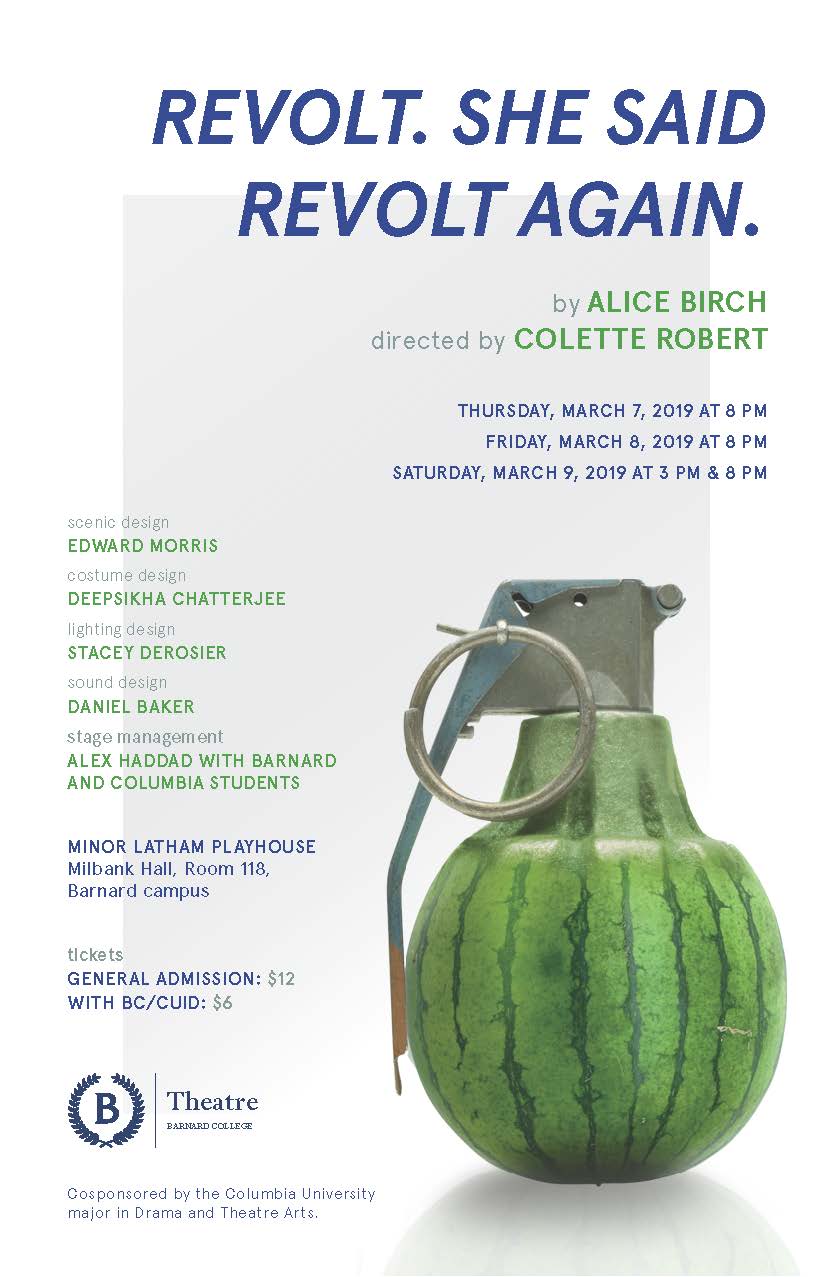 Revolt. She Said Revolt Again.
by Alice Birch
Directed by Colette Robert
March 7th, 8th and 9th
Image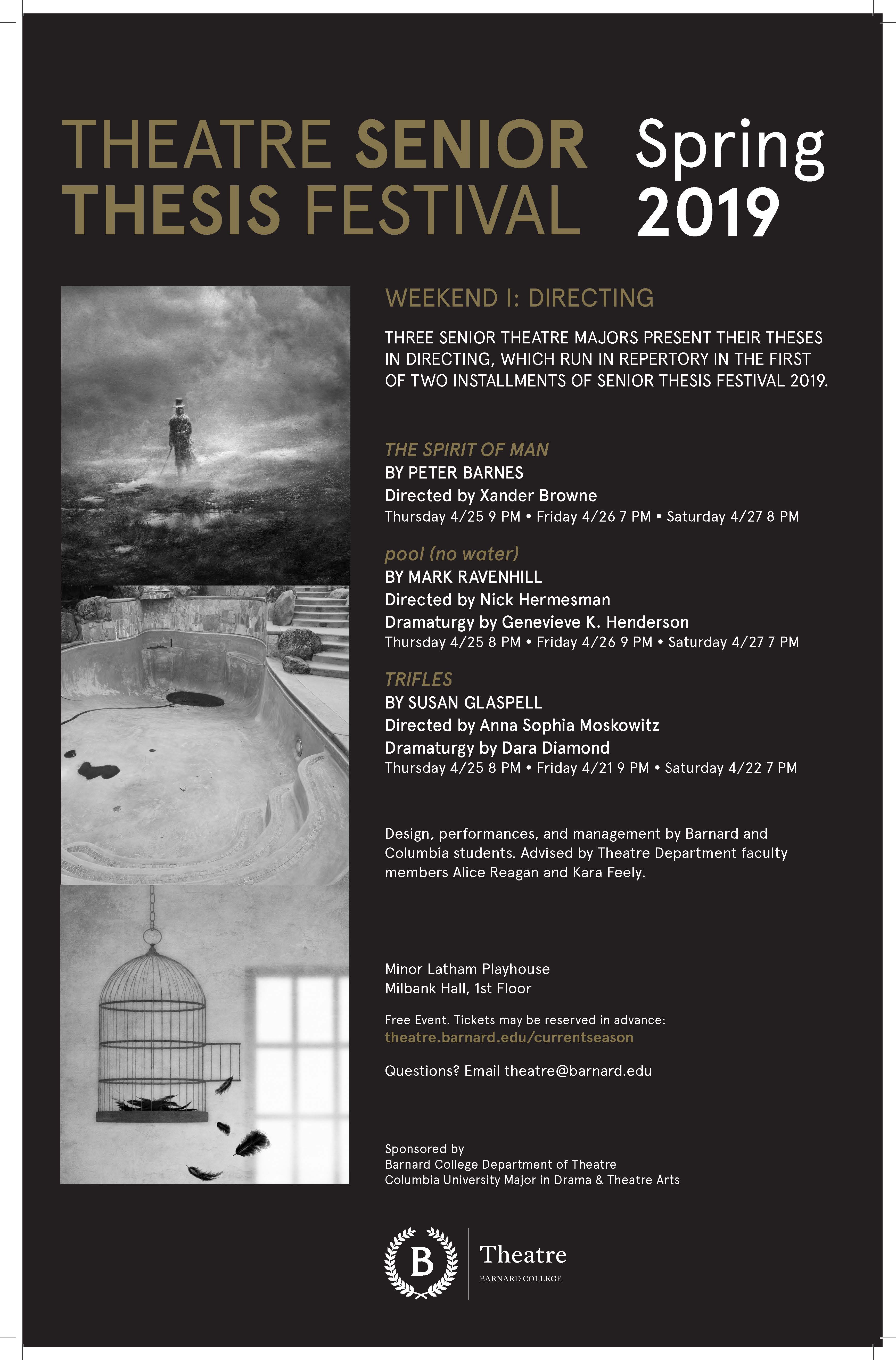 WEEKEND I: Senior Theses in Directing
Thursday, April 25 – Saturday, April 27
Trifles
by Susan Glaspell
Directed by Anna Sophia Moskowitz
Dramaturgy by Dara Diamond
pool (no water)
by Mark Ravenhill
Directed by Nick Hermesman
Dramaturgy by Genevieve K. Henderson
The Spirit of Man
by Peter Barnes
Directed by Xander Browne
Design, performances, and management by Barnard and Columbia students. Advised by Theatre Department faculty members Alice Reagan and Kara Feely.
Sponsored by
Barnard College Department of Theatre
Columbia University Major in Drama & Theatre Arts
Image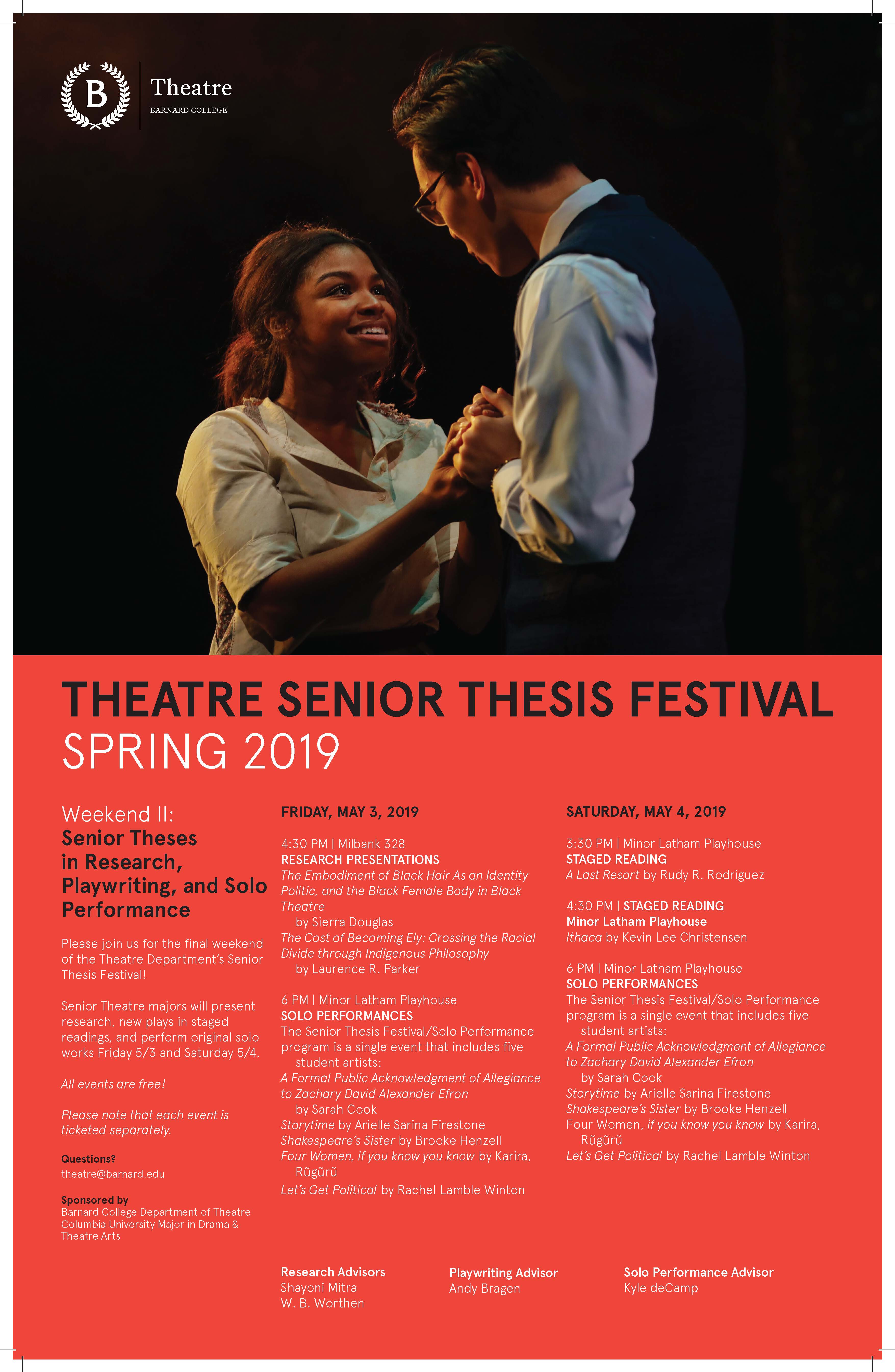 WEEKEND II: Senior Theses in Solo Performance and Playwriting
Friday, May 3, 2019
4:30 PM | Research Presentations Milbank 328
The Embodiment of Black Hair As an Identity Politic, and the Black Female Body in Black Theatre by Sierra Douglas
The Cost of Becoming Ely: Crossing the Racial Divide through Indigenous Philosophy by Laurence R. Parker
6:00 PM | Solo Performances
The Senior Thesis Festival / Solo Performance program is a single event that includes five student artists:
A Formal Public Acknowledgment of Allegiance to Zachary David Alexander Efron by Sarah Cook
Storytime by Arielle Sarina Firestone
Shakespeare's Sister by Brooke Henzell
Four Women, if you know you know by Karira, Rũgũrũ
Let's Get Political by Rachel Lamble Winton
Saturday, May 4
3:30 PM | Staged Reading                                                                            
A Last Resort by Rudy R. Rodriguez
4:30 PM | Staged Reading
Ithaca by Kevin Lee Christensen
6:00 PM | Solo Performances
The Senior Thesis Festival / Solo Performance program is a single event that includes five student artists:
A Formal Public Acknowledgment of Allegiance to Zachary David Alexander Efron by Sarah Cook
Storytime by Arielle Sarina Firestone
Shakespeare's Sister by Brooke Henzell
Four Women, if you know you know by Karira, Rũgũrũ
Let's Get Political by Rachel Lamble Winton