Fall 2019
Two Plays by Adrienne Kennedy, directed by Alice Reagan, Thursday 10/17/19 - Saturday 10/19/19
In these two short, intense plays, a young African American protagonist embarks on voyages of the mind through her life, seeking to reconcile her racial heritage with a culture that rewards whiteness. Kennedy, a seminal writer of the Black Arts Movement and later, uses hallucinatory imagery to depict the fractured mental landscapes of her leading women, who are both autobiographical and shockingly contemporary. With an entr'acte by Jackie Sibblies Drury, winner of the 2019 Pulitzer Prize for Drama.
Image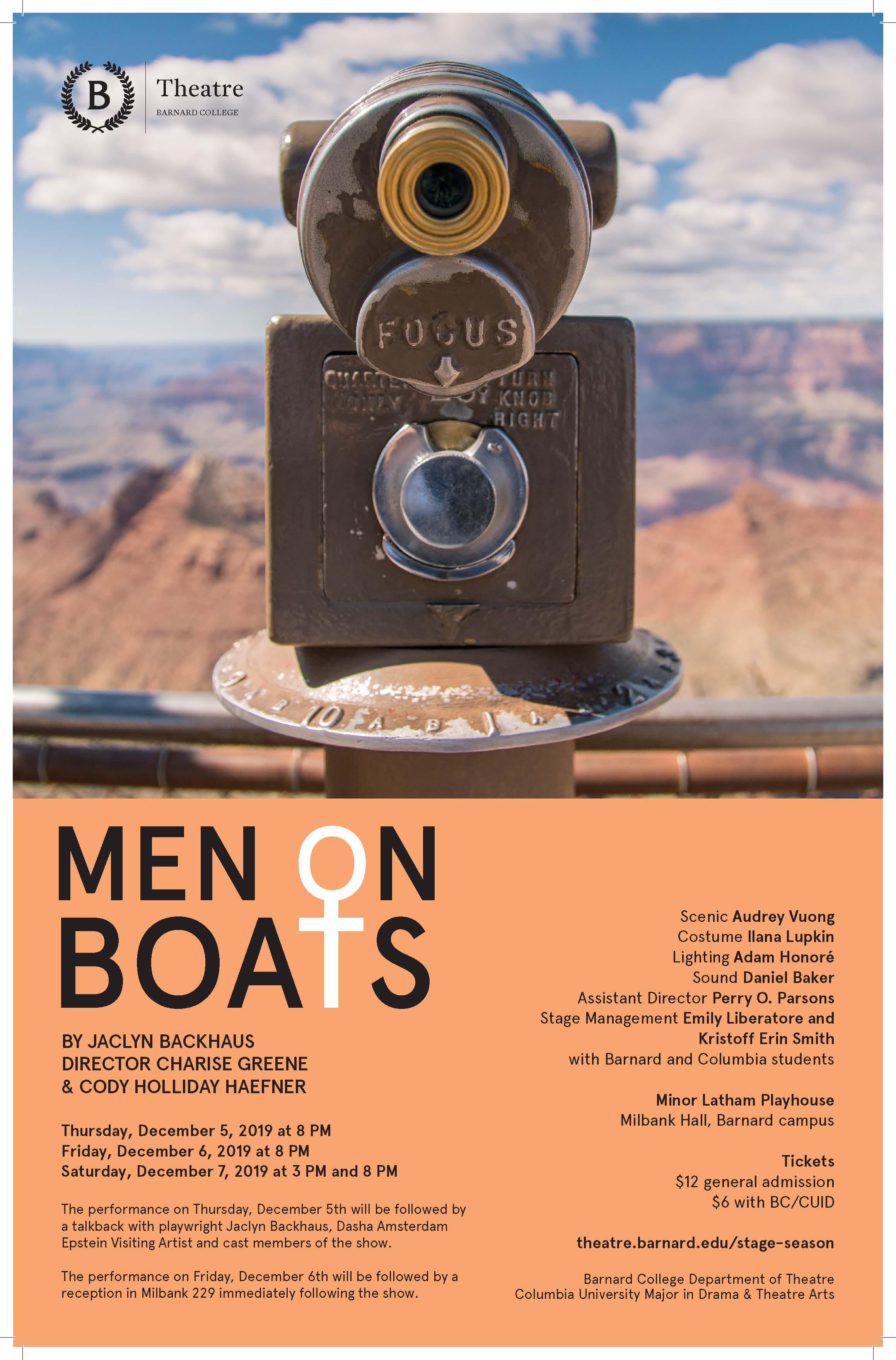 Men On Boats by Jaclyn Backhaus, directed by Charise Greene, Thursday 12/5/19 - Saturday 12/7/19
In 1869, John Wesley Powell led a group of 10 men down the Colorado River to chart its course. With only four boats, a month's provisions, and plenty of moxie, these men risked life and limb, all in the name of Manifest Destiny. Based on Powell's travel journals, this modern action adventure — performed by a cast of women — undertakes a comic and pointed exploration of American expansion.
Spring 2020
Image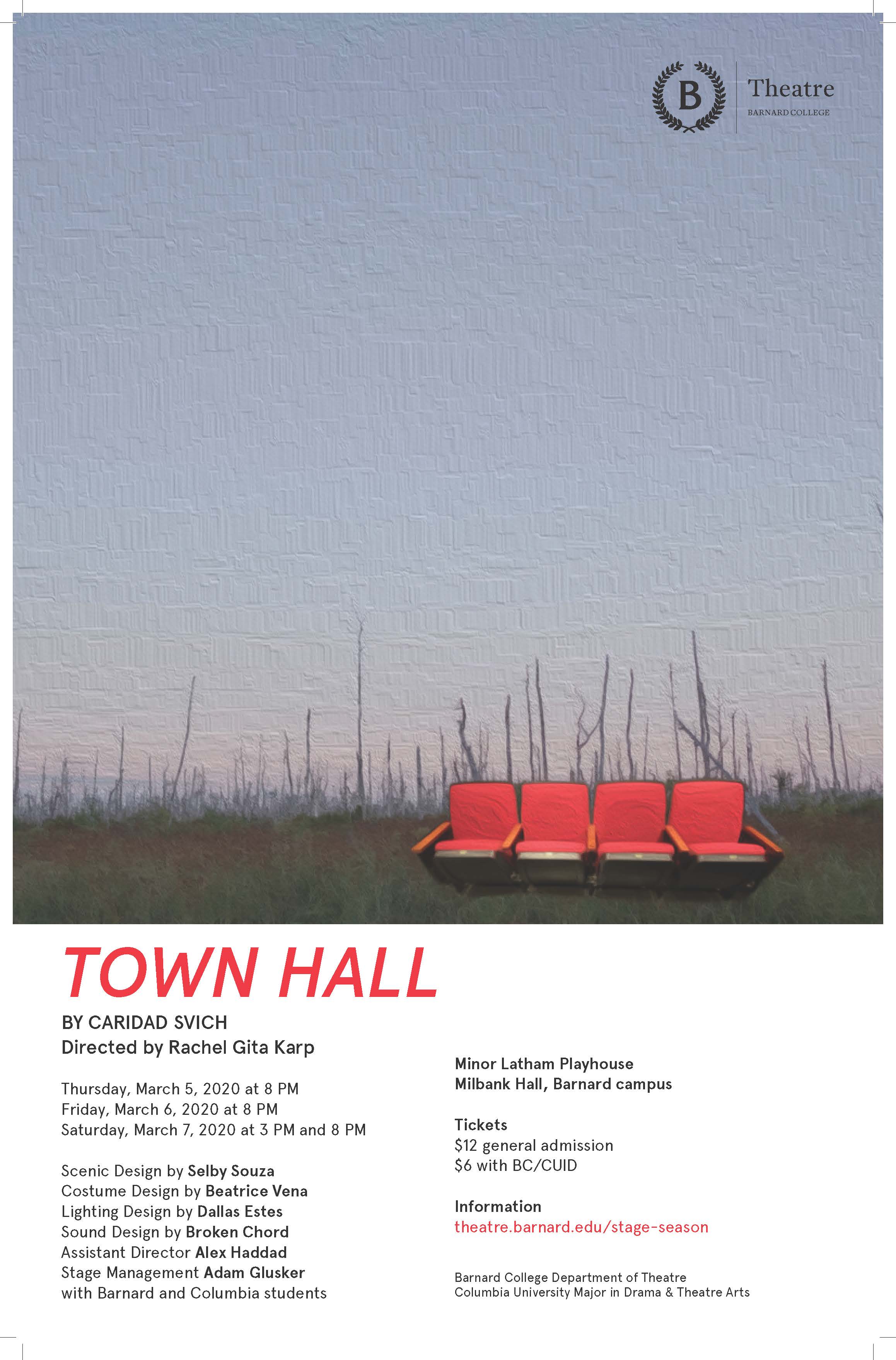 Town Hall by Caridad Svich, directed by Rachel Karp, Thursday 3/5/20 - Saturday 3/7/20
The space of theatre, the space of meeting, the space of gathering: In Caridad Svich's Town Hall, a group of unnamed people explore what it might mean to come together "After it all happened / And we thought that the world was over." Moving between the landscape of dream and the mundane world of a civic meeting hall, Town Hall offers a space for reflection on the fashioning of community in and out of the theatre: "Will you remember this moment?"
Thesis Festival 2020
Image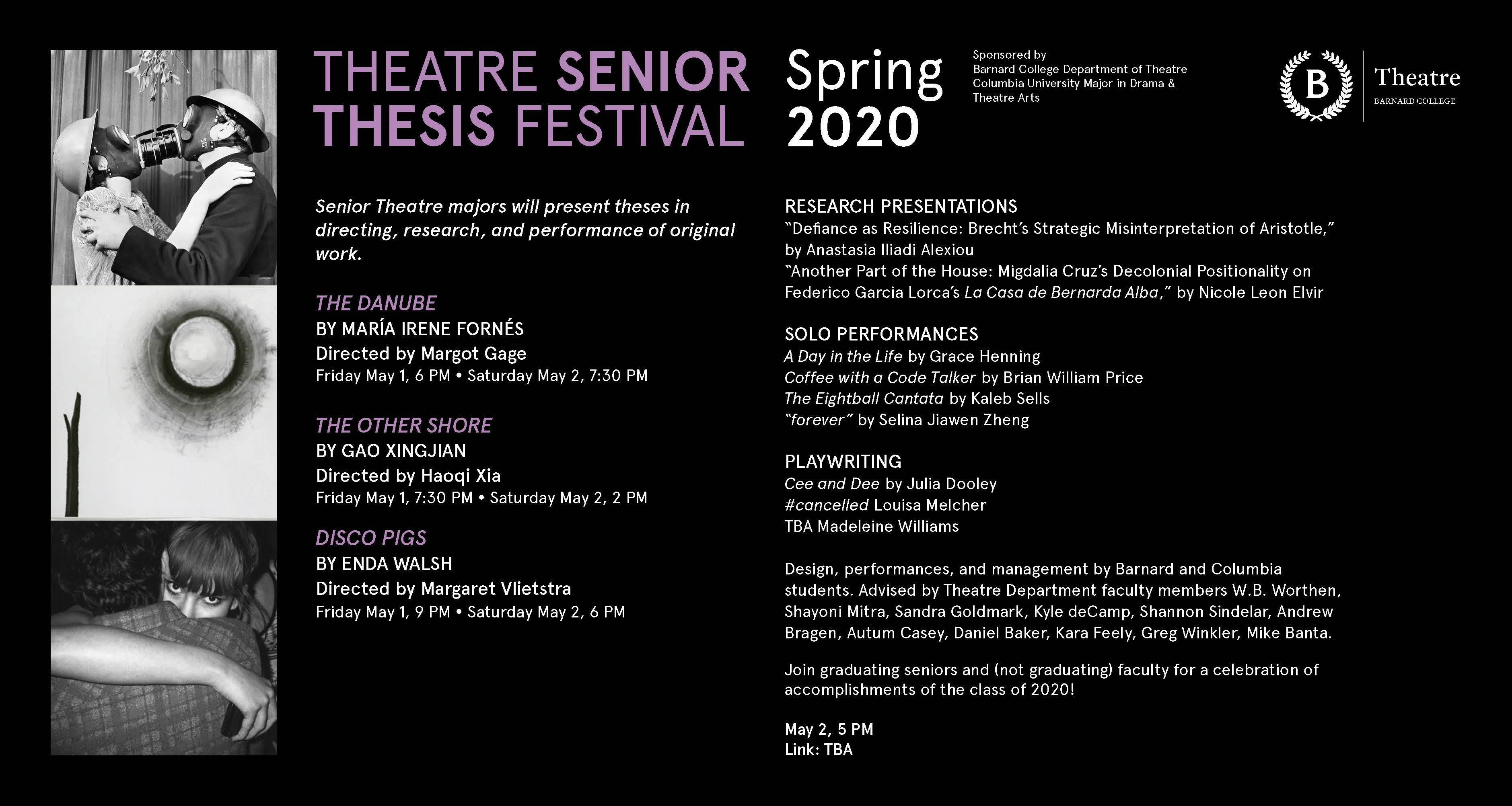 Theatre Research Presentations, Friday 5/1/20:
Defiance as Resilience: Brecht's Strategic Misinterpretation of Aristotle by Anastasia IIiadi Alexiou
Another Part of the House: Migdalia Cruz's Decolonial Positionality on Federico Garcia Lorca's La Casa de Bernarda Alba by Nicole Leon Elvir
The Danube by Maria Irene Fornes, directed by Margot Gage, Friday 5/1/20 - Saturday 5/2/20
The Other Shore by Gao Xingjian, directed by Haoqi Xia, Friday 5/1/20 - Saturday 5/2/20
The Other Shore, by the Nobel laureate Gao Xingjian, interrogates the human struggle to reach ideals that both society and individuals uphold. Heightening and extending the conflicts between the individual characters and the crowd, the play explores and interweaves complex power relations between individuals and society into the dialectic of reality and idealism.
Disco Pigs, Friday 5/1/20 - Saturday 5/2/20
Disco Pigs follows two teenagers, Pig and Runt, as they come of age together in bars and nightclubs around Cork, Ireland in the mid '90s. Born at the same time and raised next door to one another, the two inseparable friends have created a rebellious world of their own. On the eve of their seventeenth birthdays, Pig and Runt struggle to confront their changing relationship as they head into adulthood.
Solo Performances, Saturday 5/2/20:
A Day in the Life by Grace Henning
Coffee with a Code Talker by Brian William Price
"forever" by Selina Jiawen Zheng
The Eightball Cantata by Kaleb Sells