Fall 2021
Image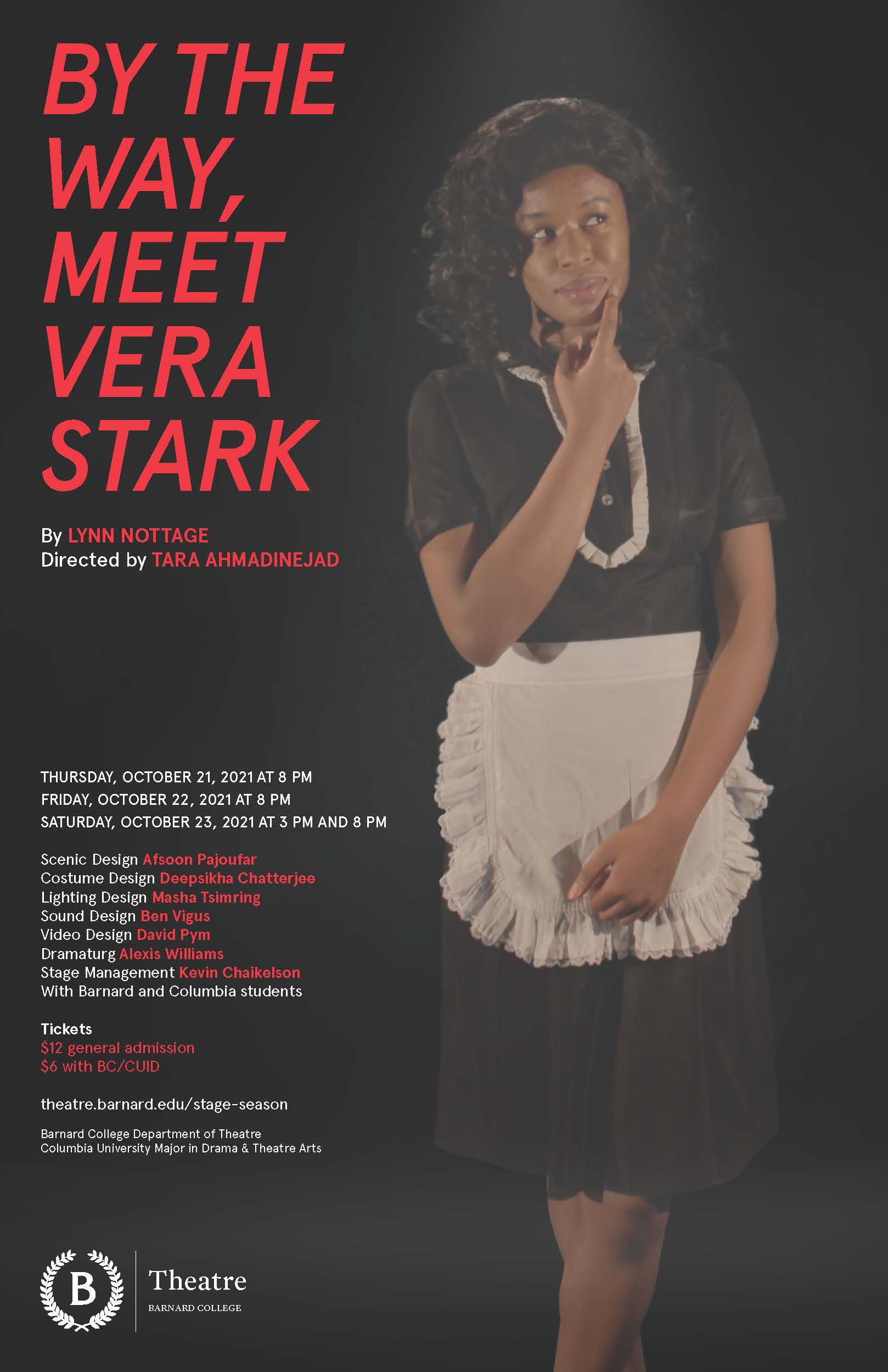 By The Way, Meet Vera Stark 
by Lynn Nottage
Directed by Tara Ahmadinejad
Thursday 10/21/21 - Saturday 10/23/21
Vera Stark, aspiring actress and maid to film star Gloria Mitchell, will do whatever it takes to achieve her dream, no matter the role. For a Black actress in old Hollywood, there aren't many parts to choose:  when cast, her breakout role is as a stereotypical enslaved person. Decades later, critics and scholars scrutinize Vera's life and work: Was she a victim of the system or did she subvert it from within? Lynn Nottage's time-jumping, satirical play examines Vera's legacy and agency, and issues of representation.
Image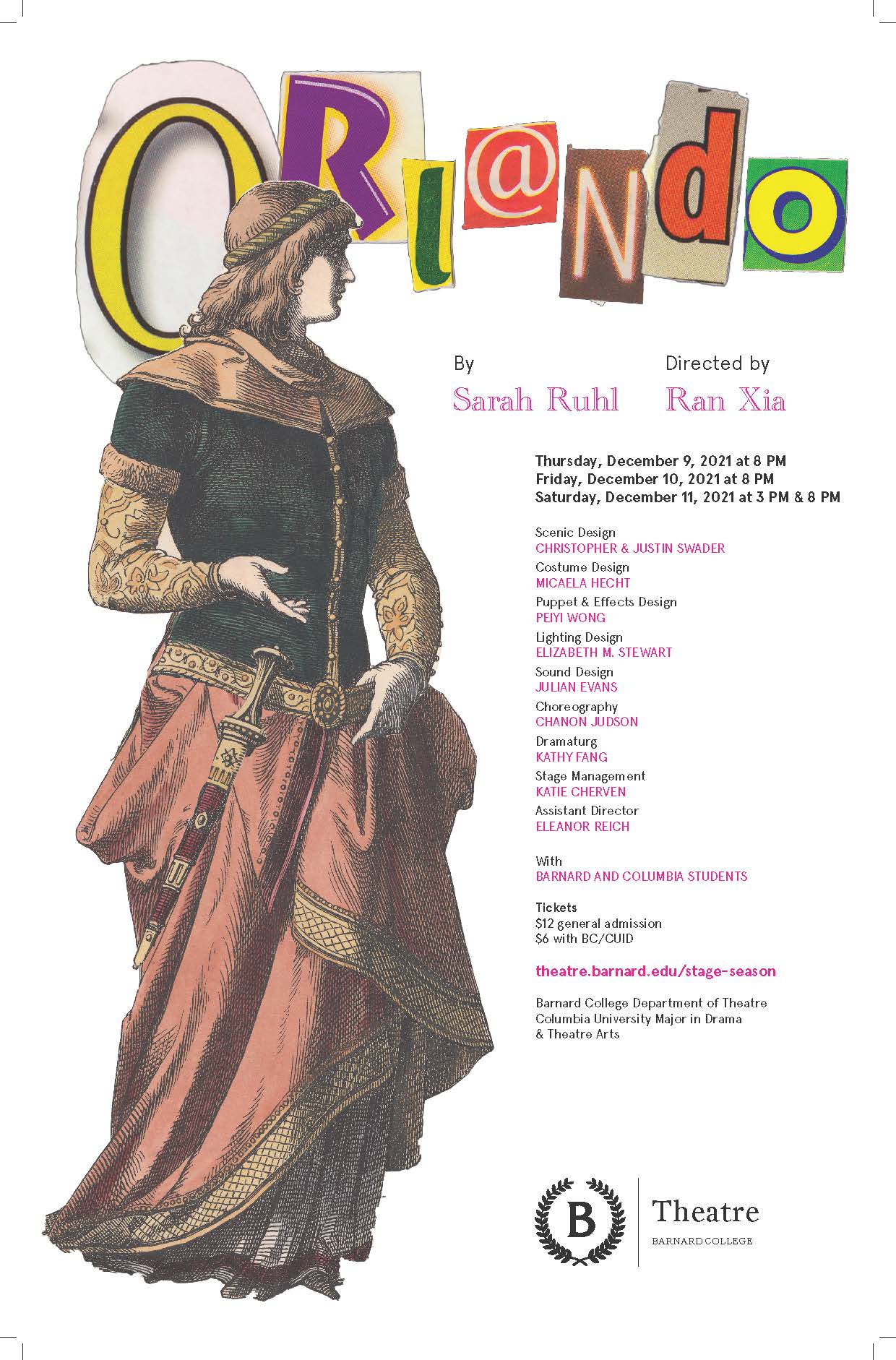 Orlando 
by Sarah Ruhl, adapted from the novel by Virginia Woolf
Directed by Ran Xia
Thursday 12/9/21 - Saturday 12/11/21
Orlando grew up a boy in Elizabethan England; Orlando awoke a woman during his ambassadorship in Constantinople.  Skimming through history, Orlando gained the favor of the Virgin Queen, found his first love during the Great Frost, got herself a husband, and swung through the roaring 1920s.  He lived a thousand lives and she a thousand deaths, all as "Orlando" and so much more.
Spring 2023
Image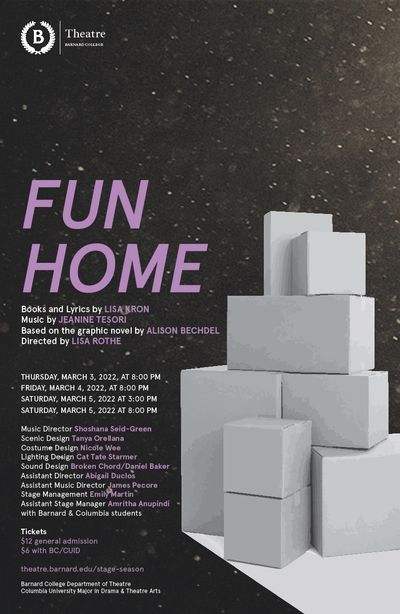 Fun Home
Books and Lyrics by Lisa Kron
Music by Jeanine Tesori
Based on the graphic novel by Alison Bechdel
Directed by Lisa Rothe
Thursday 3/3/22 - Saturday 3/5/22
Inspired by Alison Bechdel's best-selling graphic novel, in this moving drama Alison recounts her upbringing with her brilliant and volatile father–a man whose secrets defined the family­–while discovering her own sexuality. A refreshingly honest and intimate musical, Fun Home leads diverse audiences on a provocative journey toward acceptance and understanding. 
Senior Thesis Festival I
April 21, 22, and 23, 2022 
Senior Theatre majors will present theses in directing and dramaturgy
Image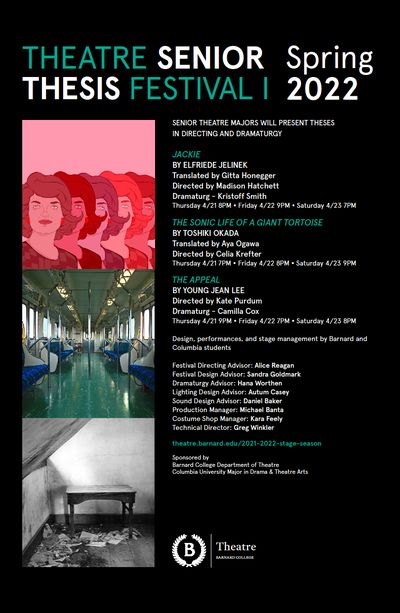 Jackie
by Elfriede Jelinek
Translated by Gitta Honneger
Directed by Madison Hatchett
Dramaturgy by Kristoff Smith
Thursday, April 21, 8 PM
Friday, April 22, 9 PM
Saturday, April 23, 7 PM
The Sonic Life of a Giant Tortoise
by Toshiki Okada
Translated by Aya Ogawa
Directed by Celia Krefter
Thursday, April 21, 7 PM
Friday, April 22, 8 PM
Saturday, April 23, 9 PM
The Appeal
by Young Jean Lee
Directed by Kate Purdum
Dramaturgy by Camilla Cox
Thursday, April 21, 9 PM
Friday, April 22, 7 PM
Saturday, April 23, 8 PM
Senior Thesis Festival I Program Spring 2022
Two weekends featuring creative and research theses by graduating seniors: performance theses in directing, design, dramaturgy, playwriting, and solo performance, and lecture presentations of senior theses in research. Senior theses in acting have appeared in previous productions.
Senior Thesis Festival II
April 29 and 30, 2022
Senior Thesis in research, solo performance and playwriting
Image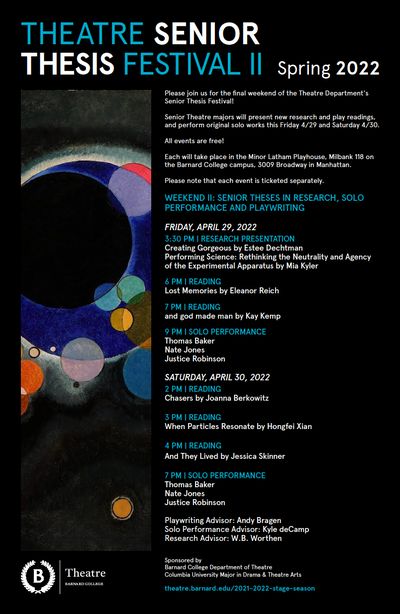 Friday, April 29, 2022
3:30 PM | RESEARCH PRESENTATION - GET TICKETS
Creating Gorgeous by Estee Dechtman
Performing Science: Rethinking the Neutrality and Agency of the Experimental Apparatus by Mia Kyler
6 PM | READING - GET TICKETS
Lost Memories by Eleanor Reich
7 PM | READING - GET TICKETS
and god made man by Kay Kemp
9 PM | SOLO PERFORMANCE - GET TICKETS
Nate Jones
Justice Robinson
Thomas Baker
Saturday, April 30, 2022
2 PM | READING - GET TICKETS
Chasers by Joanna Berkowitz
3 PM | READING - GET TICKETS
When Particles Resonate by Hongfei Xian
4 PM | READING - GET TICKETS
And They Lived by Jessica Skinner
7 PM | SOLO PERFORMANCE - GET TICKETS
Nate Jones
Justice Robinson
Thomas Baker
Senior Thesis Festival II Program Spring 2022