Barnard Theatre 2022 - 2023 Season
Fall 2022
Image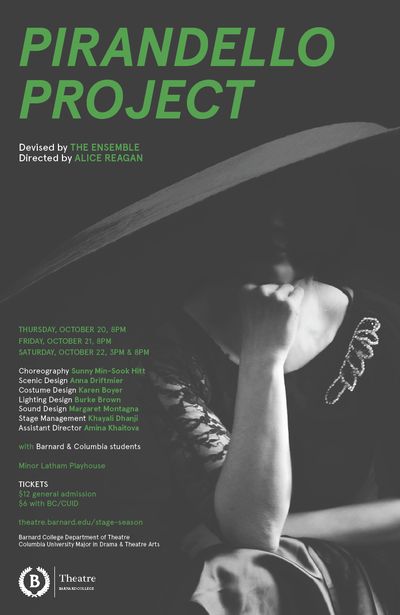 Pirandello Project
A devised work
Directed by Alice Reagan
Pirandello Project Program 
Thursday, October 20, 8PM 
Friday, October 21, 8PM 
Saturday, October 22, 3PM 
Saturday, October 22, 8PM 
Director's Statement
This devised piece takes the work, philosophies, and life of Italian playwright Luigi Pirandello (1867-1936) as its subject and material.  A hugely prolific, deeply unhappy writer of short stories, novels, plays, essays, and letters, Pirandello, an avowed fascist, had a complicated relationship to the question of identity.  One of the first postmodern writers, Pirandello questioned the received wisdom that any person possesses a stable identity.  He laughed at the idea that any person is capable of defining themselves, and he seriously doubted that it's possible to ever really know another soul.  Through an ensemble-led investigation of his works and tumultuous life, we will build this piece together.  Our central question is, Who are we?  How do we know for sure?  And will our communities let us be?  We will make a work echoing Pirandello's best plays: an evening that is fast, stylish, funny, sarcastic, passionate, and tragic.
Image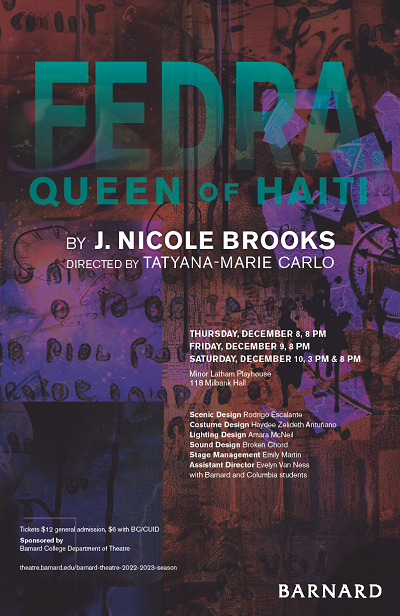 Fedra: Queen of Haiti
by J. Nicole Brooks
Directed by Tatyana-Marie Carlo

Thursday, December 8, 8PM - GET TICKETS
Friday, December 9, 8PM - GET TICKETS
Saturday, December 10, 3PM - GET TICKETS
Saturday, December 10, 8PM - GET TICKETS
Director's Statement
Fedra by J. Nicole Brooks is an adaptation of Phèdre by Jean Racine written in 1677 based on the original Greek myth of Phaedra, and more directly on Euripides' Hippolytus.  Fedra is a modern retelling set in a reimagined world where modern-day Haiti is a global superpower.  Fedra is all about controversial love and ultimate betrayal.  King Theseus is presumed dead in an accident in a world of great political uncertainty.  Amid instability, Queen Fedra becomes enchanted by her husband's son Hippolytus.  This new relationship is tested as conflicts emerge regarding the kingdom's future.  Brooks maintains much of Racine's plot, adding whimsical humor and linguistic turns, making Racine's intense psychological drama current in a new, immediate, and pressing way.  Indeed, in this production, Fedra takes on the sometimes crazy twists and emotional turns of the telenovela.  As J. Nicole Brooks puts it, 
"This play is written in a language and style that reflect agility and imperfection. . . It's in the realm of the experimental.  The characters often topple over one another speaking.  They stammer, are bilingual, have unexpected moments of silence, or know when to speak with sharp precision—much like we do in real life.  The play draws on mythology and ideas from many cultures." 
Spring 2023
One Flea Spare
by Naomi Wallace
Directed by Gisela Cardenas
March 2-4, 2023
Director's Statement
Written in 1995, in 2009 Naomi Wallace's One Flea Spare became part of the permanent répertoire of the French National Theater, the Comédie Française, the only play by a living American playwright to be taken into the répertoire.  Taking its title from John Donne's erotic love poem "The Flea," published in 1633, the play Set in London in 1665, when the bubonic plague was spreading death around the city, the play's title comes from an erotic love poem by John Donne, "The Flea," first published in 1633, in which the speaker imagines a flea, having bitten him and his lover, to their blood together: "O stay, three lives in one flea spare / Where we almost, nay more than married are."  Trapped in a quarantined home, a servant-girl Morse, a sailor Bunce, and the wealthy Snelgraves wipe the walls with vinegar while waiting for the quarantine imposed on them by Kave, an embodiment of early capitalism, to be lifted, allowing them to come out of the house.
With a poetic text, Wallace's play explores the connection between identity and power expressed in her characters' corporal experience and physical well-being.  Here, desire is negotiated within the structures of race, class, gender, age, nationality, and sexual preference, offering a radical feminist utopia in which the conundrums, pleasures, and dangers of human relations are made palpable for the audience.  Activating a tension between illness and release, the constricted and the carnivalesque with which we are all now too-familiar, One Flea Spare aims to open the audience to what Wallace terms "the poetics of the flesh."