Above: The George Floyd Memorial at Pillsbury House Theatre. The Theatre's Faye Price spoke at the first Pandemic Panel event on Minneapolis and BLM.
Nearly every month, from September 30, 2020 to March 26, 2021, senior lecturer in theatre Shayoni Mitra is hosting "Pandemic Panels: Theatre Activists Respond to a Year of Protests and COVID," which brings Barnard faculty across departments together with artists from around the world to discuss the role that art plays during times of social upheaval. From the pandemic to mass protests, 2020 has sparked new conversations around activism and social justice, and theatre professionals like Mitra, who work at the intersection of performance and politics, are responding in new ways. 
In collaboration with Barnard faculty from the Departments of Theatre, Architecture, Religion, and Asian and Middle Eastern Cultures — and the Dasha Amsterdam Epstein Visiting Artist/Scholars program — Mitra produced six different panels to take place across the entire academic calendar, addressing an array of topical issues. 
---
Download the flyer here or see below to register for future events, including "Chile and the Revolutionary Promise of 2019," on November 20. To view previous events, check out Minneapolis and BLM with guest Faye Price of Pillsbury House Theatre and India and the Migrant Crisis with guests Anurupa Roy of Katkatha Puppet Arts Trust and Choiti Ghosh of TRAM Theatre Trust.
---
In a "5 Questions With …" interview, Mitra, who is currently working on a book called Contesting Capital: A History of Political Theatre in Postcolonial Delhi, opens the curtain for a peek behind the production of her Pandemic Panels as well as the unexpected global reach she found as a result of social distancing.
Shayoni Mitra: I was seeing a lot of friends and collaborators in different parts of the world continue to make work during the pandemic lockdowns, often while being immersed in social movements and protests. I thought it would be interesting to compare some strategies so we could all learn from them.
Why was it important to foster a global conversation around the pandemic's impact?
I think when it comes to the pandemic, issues around public health, economics, education, and even psychology are widely discussed. There has been less collective focus on the arts, not just how artists, performing arts professionals, and cultural institutions have been impacted but how they have been creatively facing the challenges of the pandemic. So when we think of the impact of the pandemic, we must consider the long-term effects on our cultural life and how to foster sustainable and more equitable systems going forward.
How did you pull together such an ambitious project? 
With a lot of help from my department, colleagues in different departments, and collaborators in different parts of the world. The Dasha Amsterdam Epstein Visiting Artist/Scholar program and the Dasha Amsterdam Epstein Theatre Ticket Fund support this initiative. Coretta Grant, administrator for the Department of Theatre, manages all the logistical work, and Lauren Alcindor '21CC, my student assistant, is the web and social media whiz who makes a lot of this happen. In addition, Giorgio DiMauro, dean of international and global strategy, has been incredibly generous with his time and expertise. I owe a debt of gratitude to the other five colleagues, each from a different department — Paige Johnson (theatre); Eduardo Pávez Goye (English, Columbia); Anooradha Iyer Siddiqi (architecture); Tiffany Hale (religion); and Nick Bartlett (Asian and Middle Eastern cultures) — who will be moderating these conversations.
Did the pandemic actually make it easier to involve speakers from around the world?
One of the few joys of the pandemic has been the connectivity that the internet brings. I no longer need to fundraise huge amounts to bring international visitors to campus. Instead, with some creative scheduling around time zones, we can invite these amazing artists and activists from around the globe to speak to our students and colleagues and share their experiences with us. Yes, Zoom fatigue is real, but I am finding that people are really hungry for engagement in this time when our physical movements and social interactions are so restricted. Hearing stories from other parts of the country and the world seems like such an inspiring way to vicariously travel.
What can participants expect at the upcoming "Chile and the Revolutionary Promise of 2019" and the spring events?
What an absolutely amazing way to close out our discussions for this semester and the year 2020 — with Chile! When I planned this panel, I had on my mind the mass protests for constitutional reform that Chile had seen in the fall of 2019. This [pandemic] event was meant to be a follow-up to the protests, to see if and how much the pandemic had dampened that social movement. Instead, in the meantime, they've won the right to rewrite their constitution. Through a mass social justice movement! I can't wait to hear from two prominent theatre artists — Guillermo Calderón, a playwright, and Héctor Morales, an actor and director — about their direct involvement in these popular protests and what they imagine the role of the arts to be in this new Chile they have fought for and imagined.
Next semester, we will continue our discussions on the many manifestations of the pandemic and its fallout with an arts center in Nairobi, an Indigenous theatre in New Zealand, and a performance artist in Hong Kong. [We will explore] why Africa and its efforts are not spoken of as much in this pandemic, the disproportionate impact of COVID-19 on BIPOC communities everywhere, and surveillance technologies and how they implicate new health monitoring systems. And above all, we'll ask: How do we continue to engage in and with social justice movements globally. So much to learn!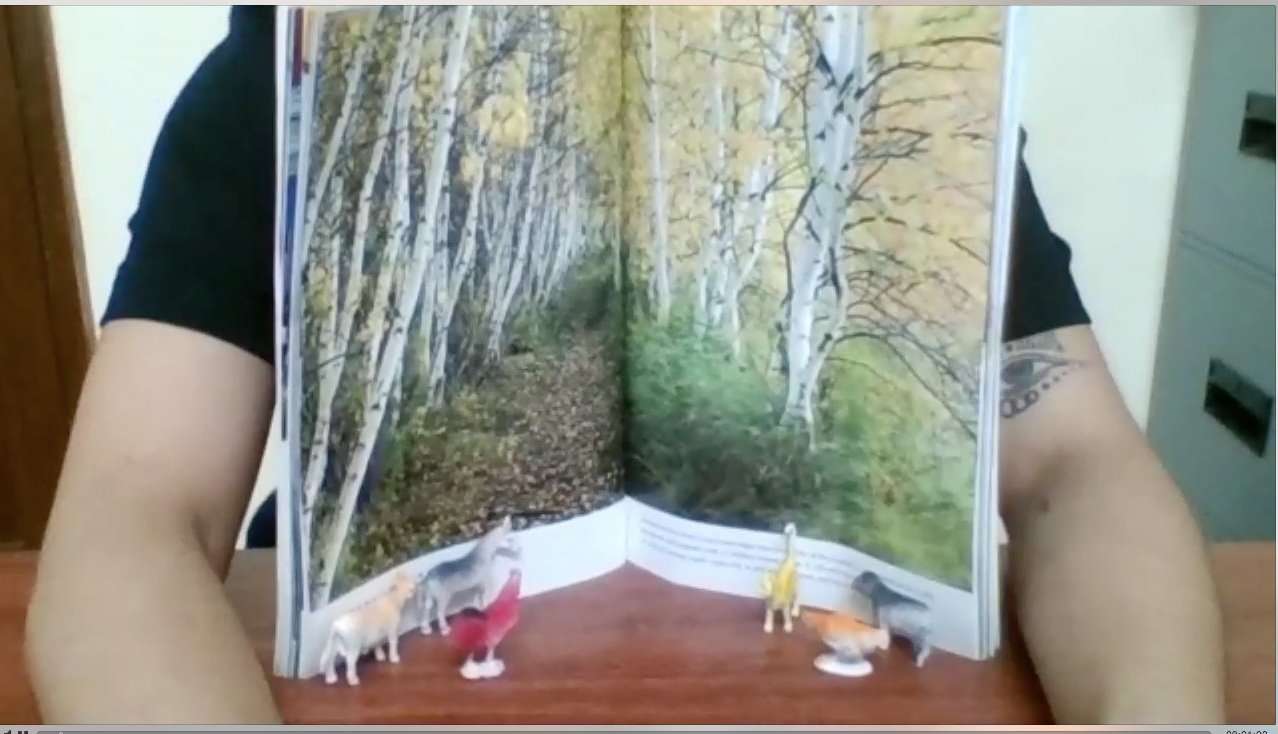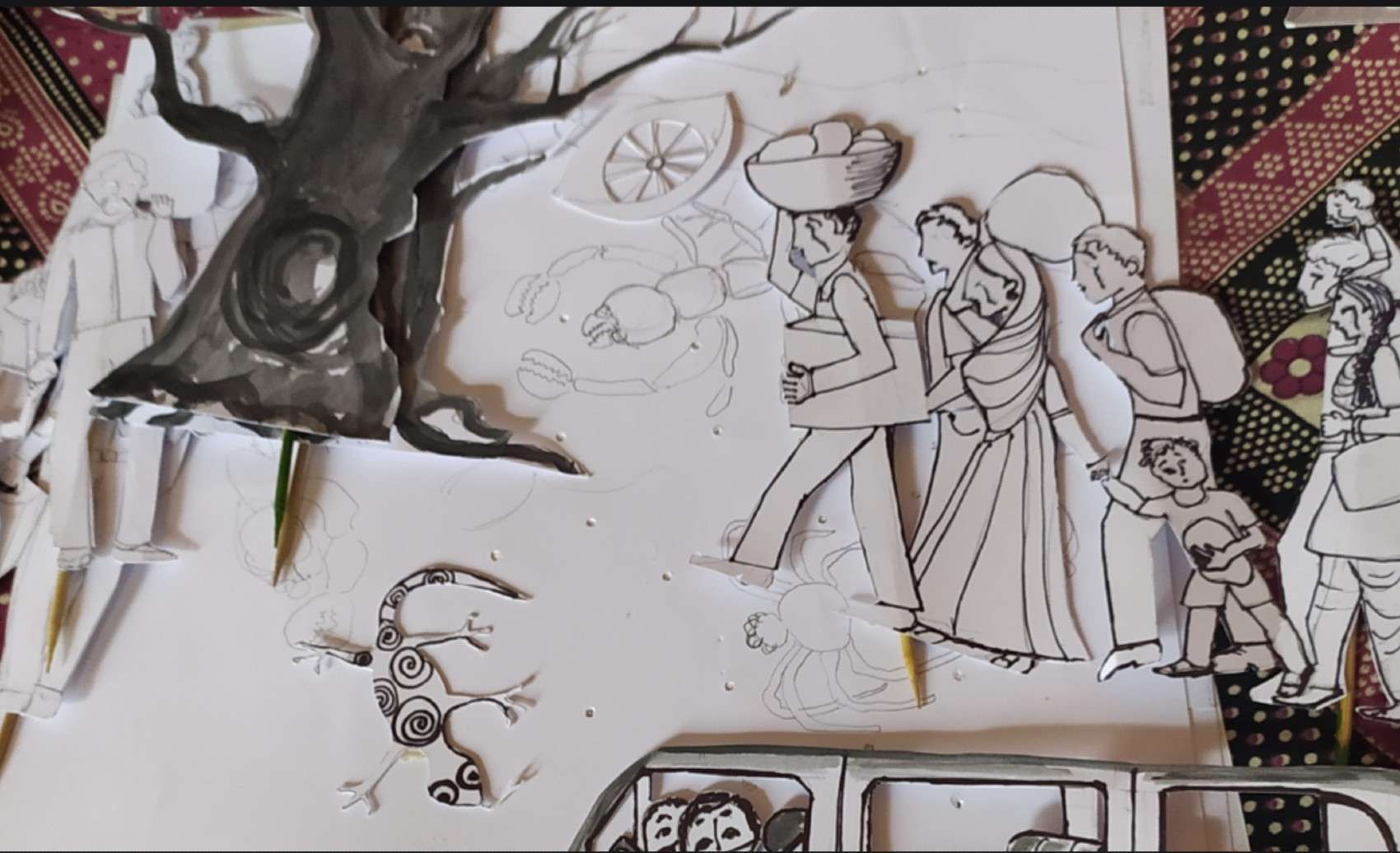 Screenshot from the Minneapolis and BLM Pandemic Panels event.
Improv by Sannidhi Surop on 'Stories of Genesis' during Tram Arts Trust's online Object Theatre Workshop.
Screenshot from the short film The Girl in the Pink Frock, made by event speaker Anurupa Roy.